Early iPad Pro reviews: Apple's massive new tablet is a great iPad, but can't replace a MacBook
Critics say the 12.9-inch Pro is a niche product—but that Apple Pencil is pretty amazing.
"I was disappointed with Apple's optional keyboard case," says The Verge's Walt Mossberg. "It's essentially a shallow Mac keyboard, with keys like Command that mean something only in Mac OS X, but not a single shortcut key to an iPad function, like Home or Search. It's also not backlit, and it has only one angle in which it holds the screen."
Mossberg found that the MacBook Pro's keyboard is still the one to beat, but third-party manufacturers can develop their own keyboards. One option, Logitech's Create, is on sale now for $19 cheaper than the Smart Keyboard. Mossberg ranked it a close second to the MacBook Pro keyboard. It also functions as a case, which the Smart Keyboard does not.
Apple Pencil wows the critics
While reviews of the Smart Keyboard were mixed, the Apple Pencil is winning raves across the board. Few actual artists have tested the new iPad stylus, which only works with the Pro, but the WSJ's Stern handed it off to the newspaper's illustrator, who found it easier to use than the Wacom tablet.
"He was impressed most by how the glass-and-pen combo could imitate his art-paper experience: the gentlest tilts of his watercolor brush, light shading with his pencil and deep presses with a flat marker all were lag free," Stern writes.
Accessory makers have had to develop workarounds to make iPad styluses that work with the tablet's multi-touch display, to satisfactory but imperfect results. The Apple Pencil achieves what those styluses could not.
"Using most third-party styluses with earlier iPads has always felt like drawing with a gumdrop, and even ones which go to absurd lengths to work around technical limitations have not been entirely satisfying," says Fast Company's Harry McCracken. "But by designing the iPad Pro's touch screen for the Pencil as well as your fingertips, Apple has decisively overcome all of these issues."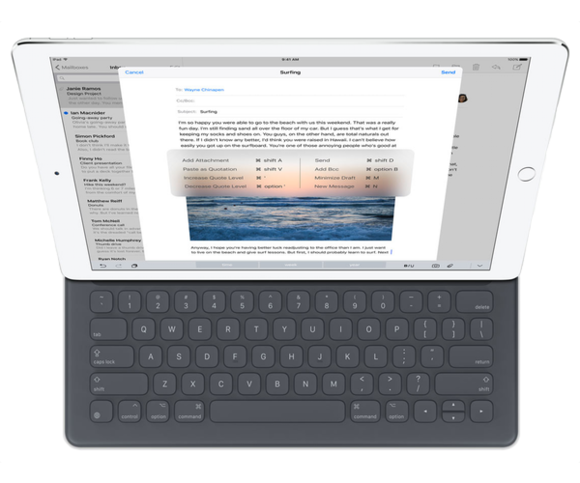 The iPad Pro is fast and powerful, but won't replace a MacBook for most people. Credit: Apple
The verdict so far
The iPad Pro is a giant tablet. If you need a massive touchscreen to get work done, the Pro is right up your alley. It runs the hundreds of thousands of apps created for iOS, including a few releases timed for the Pro's launch, like the 3D sketching app uMake and new image-editing software from Adobe. But the Pro is a niche product, critics say, because it doesn't run OS X and is therefore limited in its power and usefulness.
"The iPad Pro will no doubt make a lot of Apple users happy, especially if they use it for graphics," Mossberg weighs in. "But I won't be buying one, and I don't recommend that average users do so either."