Dragon Anywhere review: Much more powerful than Siri dictation
Even though Dragon Anywhere can only take dictation inside its own app, it works better than Siri, especially for long chunks of text.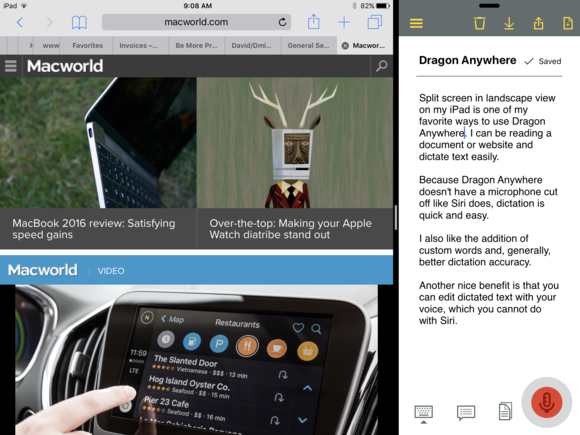 Dragon Anywhere is particularly great on iPads that support Slide Over and Split View.
Dragon Anywhere also has a customizable user-defined dictionary. You can add words right in the application. The application allows you to add new words in both the written and spoken forms. For instance, I was writing about the iPhone camera app "Carmera+" and wanted to be able to dictate the app's name. I added Camera+ to the Dragon Anywhere dictionary but also listed the app's spoken form as "camera plus." Now Dragon Anywhere gets the word right every time. Your custom words will synchronize across all installations of the application, including those on your iPad and iPhone. If you are using Dragon Dictation on your Mac, the custom words will synchronize with that as well.
In addition, Dragon Anywhere generally does a better job than Siri dictation. It gets noticeably more words right, and there are fewer corrections required. When corrections are necessary in Dragon Anywhere, you can use your voice to select words or groups of words and dictate over the top of them without touching the keyboard. Siri dictation simply cannot do this.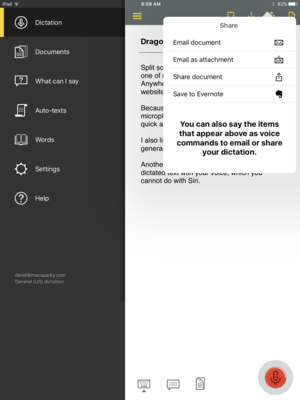 While you can only dictate inside the Dragon Anywhere app, it's easy to get your text out, even via voice command.
You also have voice commands, such as "scratch that," which removes the last bits of dictated text, and "go to end of field," which moves the cursor to the bottom of the text entry field. There's also a feature called auto-text that is similar to a voice-controlled TextExpander. You can set up blocks of text that are triggered by a simple voice command.
Unlike Siri dictation, which works in any iOS app that supports the built-in keyboard, all of your dictation in Dragon Anywhere must be done in the Dragon Anywhere application. Working in a single application for dictation can be a pain. Nevertheless, iPad multitasking and Split View make this a lot easier. Dragon Anywhere is nearly a permanent fixture on the right side of my iPad when I'm writing.
When you're done with your dictation, you can save the text to your clipboard with Dragon Anywhere's Transfer Text tool or just dictate the words "transfer text." You can also share the text out to other applications. There's built-in support for Evernote, but you can share the text to just about any application on your device that accepts words. The export format can be set to text, Microsoft Word, or Rich Text Format (RTF). One problem I have experienced is that exported words from Dragon Anywhere, even using Dragon Anywhere's plain text format, appear in Apple Mail with a slightly smaller font than the default.