Dragon Anywhere review: Much more powerful than Siri dictation
Even though Dragon Anywhere can only take dictation inside its own app, it works better than Siri, especially for long chunks of text.
The touch keyboards on our iPhones and iPads are great, but we're still trying to type on glass. Users should have the option of dictating into their mobile devices, and Apple has made a lot of strides over the last few years with Siri dictation. As Apple has improved its voice-dictation software and back-end servers, Siri is now better than it ever has been at turning your spoken words into text on your screen.
Nevertheless, there remain some issues with Siri dictation that have yet to be solved. The first is the timer. Siri dictation only works long enough for you to dictate three or four sentences. My informal timing of Siri dictation shows that it shuts down at around 40 seconds. As soon as you press that microphone button on your device, the fuse is lit, and at some point Siri dictation will just stop. Sadly, that often happens when you are midsentence, and pressing the button again leads to grammatical hijinks. Going back and fixing these issues later takes time, and that constant knowledge that your dictation will stop at any moment is a huge distraction.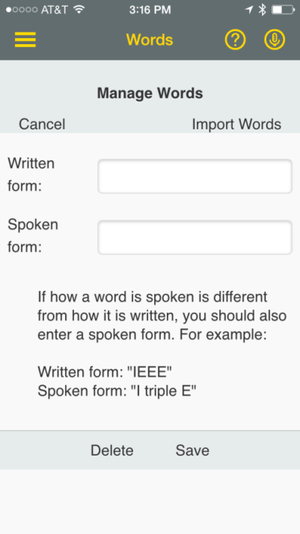 You can add custom words like industry jargon or proper nouns, and let Dragon know how you'll be pronouncing them.
Another problem is the limited vocabulary. Siri dictation can handle just about any word you will find in a standard dictionary. However, when you start adding proper names or industry jargon, it falls apart. Beyond adding contacts, there's no mechanism for you to add words to the Siri dictation dictionary, and as you are dictating, you have to constantly be aware of those words that will give it fits. In the past I have solved this problem by substituting simple words such as monkey and banana in place of those words I know Siri dictation cannot recognize, and I go back later to do a search and replace. That, however, also takes a lot of time. For power dictators, these limitations in Siri dictation can be maddening.
Nuance Communications, makers of Dragon Dictation and other dictation software, have attempted to solve these problems on the iPhone and iPad with the subscription-based Dragon Anywhere. Dragon Anywhere is multiplatform mobile dictation software for iOS and Android. The subscription starts at $15 a month and goes down slightly if you pay quarterly or yearly. Once you subscribe, you can log in with the free application and dictate away.
Dragon Anywhere solves both of the above-mentioned Siri dictation shortcomings. With Dragon Anywhere, you can dictate for long stretches of time without getting shut down. Just press the app's big green button and start dictating without worrying about it quitting midsentence. Dragon Anywhere will turn off the microphone if you are silent for 20 seconds—which I think is too short of a delay—but as long as you're talking, it keeps transcribing. I've used Dragon Anywhere for long dictation sessions and written multipage documents without any of the trouble I get from Siri dictation's timer.