Detailed Microsoft Lumia 950, Lumia 950XL, Lumia 550 leaks confirm iris recognition
Slides from a presentation in Latin America give us some tantalizing photos and specs, including a Display Dock.
Yet another slide claims that both the Lumia 950 and 950XL (but not the 550) will employ iris recognition as a means of authentication. Windows Hello on some Windows 10 notebooks uses a special Intel depth camera to scan your face, logging you in without the need to enter a password or PIN. The version of Windows Hello used by Microsoft's new flagship phones will look for the unique pattern of your iris to do the same. (It's likely that you'l have to hold the phone fairly close to your eye for this to work, however.)
Both phones have been rumored to work with the Surface Pen that accompanies the Surface tablets, but the slides don't seem to show that.
The Lumia 550, meanwhile, is a solidly mid- to low-end phone.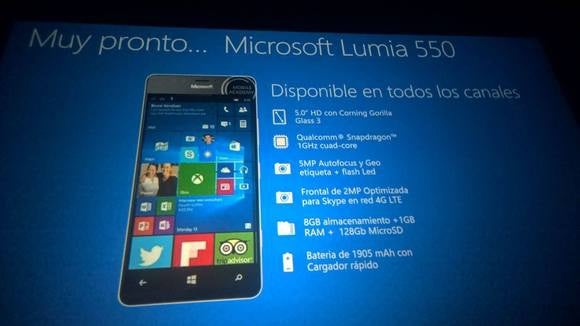 Meet the Microsoft Lumia 550. Credit: Forever Nokia Latin America
Lumia 550
Display: 5 inches, HD resolution
Processor: Qualcomm quad-core Snapdragon 1GHz
Camera: 5MP rear autofocus camera with flash; 2MP front camera optimized for Skype
Storage: 1GB RAM, 8GB internal storage; 128GB microSD card
Battery: 1,905 mAh with rapid charging
Naturally, Microsoft is also touting the other features of Windows 10, such as Cortana, the integrated OneDrive cloud storage, and other features.
We still don't know the price of each phone, nor where or when they'll be sold. Still, the majority of Microsoft's Lumia strategy is coming into focus.