Dell XPS 13 Gold Edition review: Our favorite ultrabook is all dressed up with everywhere to go
No pink here. This laptop is just gold.
What does translate to? My own experience says that very old titles, such as Counter Strike: Source or Portal, will turn in reasonable performance. Games such as Minecraft should also function fine. For anything modern, though, you should buy a gaming laptop.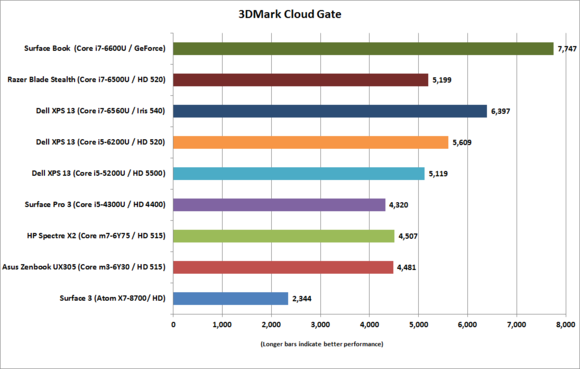 Among the laptops that rely on integrated graphics, the XPS 13 Gold Edition's Iris graphics offer the best graphics performance you can get. (Click for larger image).
Battery life
Though it has the same 56WHr battery as its silver counterpart, the XPS 13 Gold Edition's battery life is much shorter, dropping from a reasonable 529 minutes to 322 minutes.
Some of that juice is going to the higher-resolution panel and touchscreen, of course. As for the rest of the power consumed, I'd point the finger at Core i7-6560U, even though I have no definitive proof that the higher-performance graphics core and eDRAM are to blame.
Regardless of the exact reasons for the shorter battery life, it's not great. It's not horrible—I have seen worse—but considering how large the battery is in this XPS 13, just over five hours of runtime is pretty lackluster.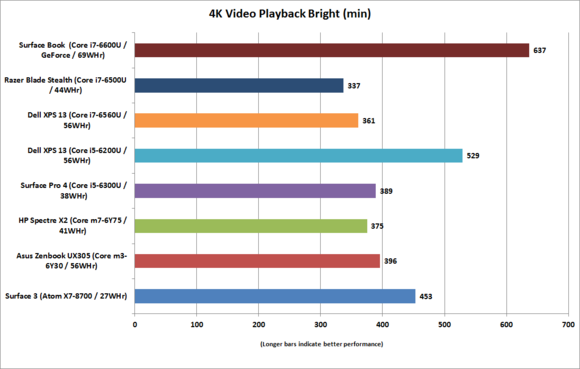 The high-res panel and touchscreen has a direct cost in battery life. (Click for larger image).
Conclusion
There are really two upgrades going on with the XPS 13 Gold Edition. The first is the color, which has a cosmetic appeal that's self-explanatory.
The second is the CPU. The Core i7-6560U with Iris graphics arguably gives you the best graphics performance in an ultraportable laptop today. You also get pretty much top-tier performance shy of going to a quad-core chip.
The only real negative with the XPS 13 Gold Edition is its mediocre battery life, which can't be avoided since Dell's more power-friendly, no-frills model is only available in silver. Is the gold coating worth that much? Not to me—and probably not to you, either—but to a lot of people, style trumps all.
Previous Page 1 2 3