Dell XPS 13 Gold Edition review: Our favorite ultrabook is all dressed up with everywhere to go
No pink here. This laptop is just gold.
The results put the XPS 13 pretty much dead even with the Core i7 versions of the Microsoft Surface Book and Razer Blade Stealth. I also threw in the Core i5 versions of the XPS 13 for comparison (a 5th-generation Broadwell model, and a 6th-generation Skylake model without Iris graphics). You get a pretty decent boost over the original Broadwell-based XPS 13, but not enough to justify an upgrade from a current Skylake CPU with Intel HD graphics.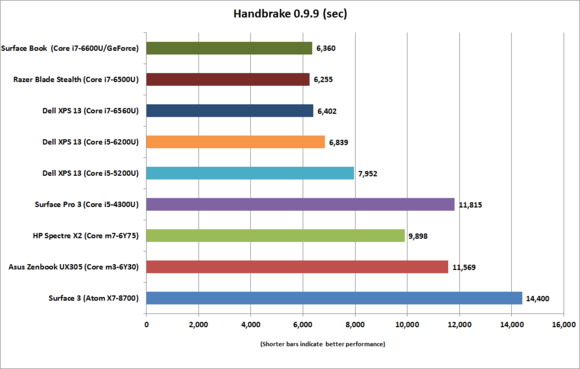 The XPS 13 Gold Edition is indeed fast thanks to its Core i7 CPU. (Click for larger image).
CineBench R15 performance
One issue with our Handbrake test is the thermal load it puts on laptops. As the laptops heat up, they typically slow down. A more reasonable measurement of CPU performance is achieved with CineBench R15, which uses Maxon's 3D rendering engine and takes just a few minutes to run.
The XPS 13 Gold Edition with a Core i7-6560U is basically dead even with the Core i7-6500U in the Razer Blade Stealth. The Core i7-6600U in the Surface Book takes top honors.
Work performance
Since most people don't expect to run 3D rendering programs or encode video on a 3-pound laptop, we used PCMark 8's Work Conventional test to measure the XPS 13's speed while doing office-drone tasks like word processing, web browsing, and video conferencing. As you can see, in these tasks, most people won't be able to tell the difference between a Core m3 or Core i7 processor. If you have a system with an Atom X7 chip, however, you will notice.
So if you're buying an XPS 13 Gold Edition because you "need more performance to use Outlook and Word," you're really just trying to justify the fact that you like this laptop's color.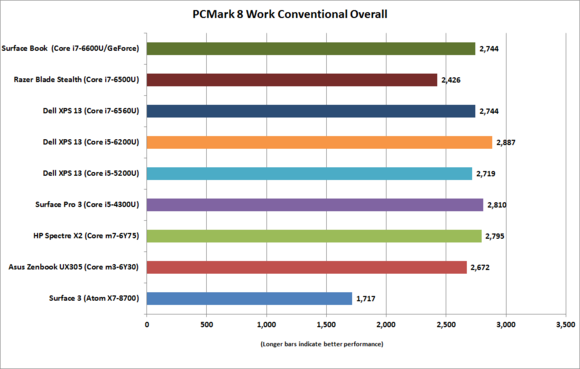 PCMark 8 Work Conventional proves you can't really feel a difference between most of the CPUs here. (Click for larger image).
Graphics performance
The Core i7-6560U holds fairly strong in the CPU benchmarks, but where it shines is graphics performance. In Futuremark's 3DMark Cloud Gate test, you can see that the Core i7-6560U's Iris graphics easily take the lead among the machines equipped with integrated graphics.
However, the Surface Book with its GeForce graphics (which we believe to be a GeForce GT 940 chip) is top dog. That's no surprise—a discrete GPU with its own GDDR5 RAM is expected to win.