Dell XPS 13 Gold Edition review: Our favorite ultrabook is all dressed up with everywhere to go
No pink here. This laptop is just gold.
Dell's XPS 13 Gold Edition laptop reveals a little-known secret about consumer tech. Apparently, when it comes to perceived value, consumers aren't as swayed by specs like a quad-core processor, SSD, or graphics as much as they are by a device's color.
Yes, fashion often trumps functionality—but luckily, Dell's latest XPS 13 offers flashy looks and equally flashy performance.
First, it's gold. And as we know, gold is best.
Second, its top-of-the line Core i7-6560U processor features Iris Graphics. That's Intel marketing speak for the company's fastest graphics core. Besides having twice the graphics execution units as a typical HD 520-equipped laptop, like the standard XPS 13, it also features 64MB of RAM embedded in the CPU package. This embedded DRAM functions as a cache that helps overall graphics performance. According to Intel, because it rejiggered the cache design for its 6th-gen Skylake parts, that cache will give other applications a boost in performance, too.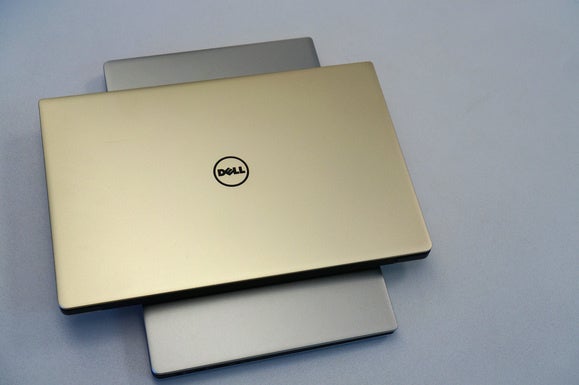 Gold is best, but the XPS 13 Gold Edition's chassis is otherwise identical to the silver version. Credit: Gordon Mah Ung
Different, but the same
The rest of the XPS 13 will feel identical to the last version I reviewed. It has the same sturdy build quality, with a carbon fiber deck and aluminum encasing the top and bottom. It has Thunderbolt 3 and charging built into it its USB Type C port, in addition to a dedicated charging port. And, of course, it has that "InfinityEdge" bezel, which gives you a 13.3-inch screen in a body that most other companies would pair with a 12-inch or even 11-inch panel.
While the silver version of the XPS 13 comes with different configuration options, the Gold Edition is limited to a fixed configuration and price. In addition to the gold body, you get a 3200x1800 panel, a 10-point touchscreen, 8GB of LPDDR3-1866 RAM, and a 256GB PCIe SSD.
The price for this on Dell.com is $1,750, which is about $50 more than a duplicate configuration in silver. Fortunately, the street price is less painful—we found the XPS 13 Gold Edition on Amazon for $1,390.
If you're like us, you care less about the color and more about the specs and performance, so let's find out what that top-end Intel CPU gets you.
Handbrake performance
Our first test involves encoding a 30GB MKV file into a smaller MP4 using the Android Tablet preset in Handbrake. This task punishes the CPU beyond what the average person will do on an ultraportable laptop, but its runtime is a good indicator of how much a laptop will slow down as it heats up.