Dell Inspiron 13 7000 Special Edition: It's a great laptop, but not a true 2-in-1
Sure, there's a 360-degree hinge, but 3.7 pounds is hefty for a tablet.
You won't find bleeding-edge USB-C/3.1 or DisplayPort on the Special Edition, but there are two USB 3.0 ports (one charging), one USB 2.0 port for peripherals, a full-sized HDMI port, and an SD card slot, as well as 802.11ac and Bluetooth 4.0. The webcam is 720p.
The Inspiron 13 7000 series is especially easy to maintain and upgrade. Remove ten like-sized screws from the bottom of the unit, pry off the lower part of the shell, and the major components (battery, hard drive, memory and more) are all laid out in front of you. Gone are the bad old days of layers of multiple daughterboards and shields to dig through, and varied-size screws. At least with Dell. Nice.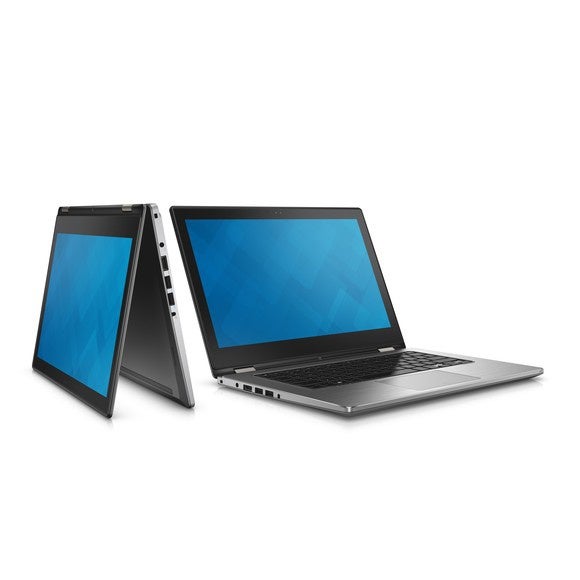 The Dell Inspiron 13 7000 Special Edition in laptop and AIO orientations.
Almost perfect
Two things about the Special Edition annoyed me. The touchpad was especially sensitive to taps--so much so, that I disabled the feature. Some might like the heightened level of sensitivity but not me.
The Inspiron 13, like other 2-in-1 designs, moves the power button to the side and makes it as tiny as can be. I'm of the belief that power buttons should be obvious, large, and situated on the keyboard deck. End of story.
Perfection eludes it, but the Inspiron 13 7000 Special Edition's positives dwarfits minor flaws. It offers good bang for the buck and is generally a very pleasant computing experience. Definitely worth a look if you're thinking workhorse, mainstream 13-inch for your next laptop.