Dell Inspiron 13 7000 Special Edition: It's a great laptop, but not a true 2-in-1
Sure, there's a 360-degree hinge, but 3.7 pounds is hefty for a tablet.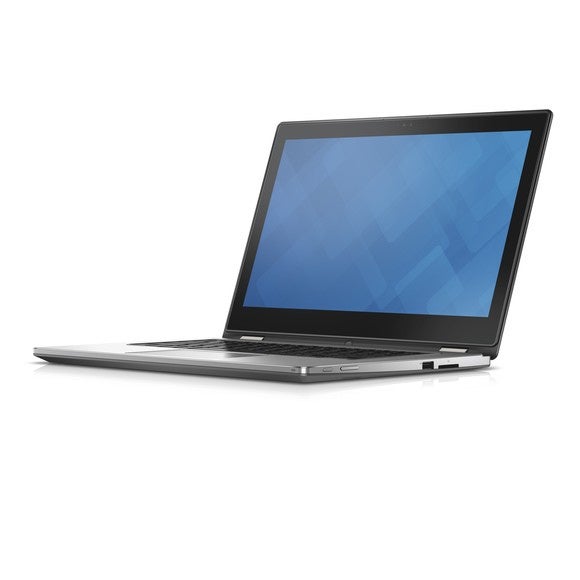 Dell's Inspiron 13 7000 series Special Edition (model 7352)—a product exclusive to Dell's Web site and Best Buy—is a seemingly mainstream machine with one special feature: a 360-degree rotating display that makes a laptop, a mini all-in-one, or a small table-top computer. It's a nice trick, but it can't distract us from the hard facts that the Special Edition weighs 3.7 pounds and is saddled with a non-removable keyboard. Dell may call it a 2-in-1, but it's a heavy and unwieldy example.
Aside from the ill-fitting designation, the Inspiron 13 7000 Special Edition has a lot going for it. Its brushed-chrome and gray shell is handsome, with just the right amount of ornamentation for my tastes. It sports a spread-layout, back lit, Chiclet-style keyboard that types well despite being short-throw. It's sturdily built; and it's a very good performer.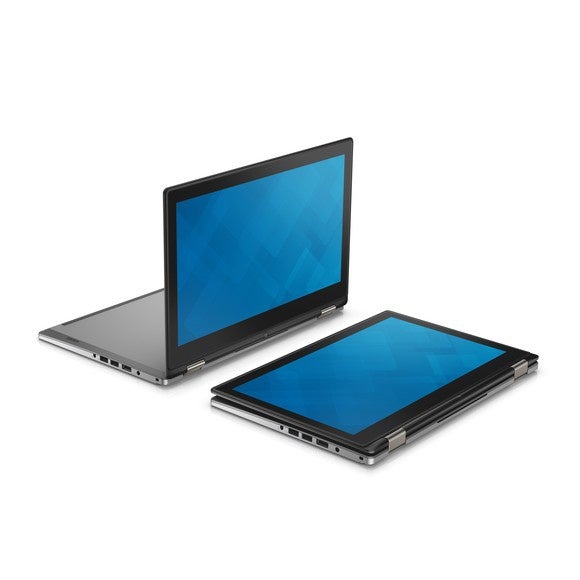 The Dell Inspiron 13 7000 with its display rotated to 270 and 360 degrees for use on a desk or table.
Performance
Given the Core i7-5500U, 8GB of DDR3/1333 RAM, and 256GB Samsung PM851 M.2/SATA SSD on board, the strong performance is no surprise. The Special Edition garnered a PCMark Creative Conventional score of 2,352 and a Work score of 2,845; transcoded a 30GB, 1080p .MKV file in 2 hours and 5 minutes; and played the same, high-bit-rate .MKV file constantly for 5 hours and 5 minutes before the battery ran dry.
The integrated Intel HD Graphics 5500 suffice for light web gaming and the like. A discrete GPU is required for anything more intense, but that isn't an option on the Inspiron 13 7000 series. The display is a 14-inch, 1920x1080 touchscreen with good viewing angles and plenty of usable brightness. Movies look great on it. There's a fair amount of glare, but that's life in the touchscreen lane.
The audio is also decent, considering that there's no direct path (i.e., speaker grille openings) for the sound to reach your ears. The MaxxAudio Pro enhancement software (found buried in the Dell Audio control panel applet, in a bit of branding nonsense) helps quite a bit. Hint: The Movies and Music settings offer more clarity than the somewhat muddy Maxx Sense preset that is the applet's default.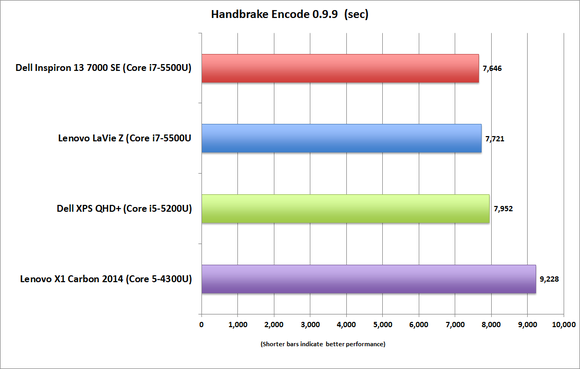 The Core i7-5500U offers top notch performance. Click on image to enlarge.
Price, ports, maintenance
The Special Edition model 7352 costs $999, which is reasonable given the components. Lower-end builds start for as little as $500 if you're willing to "settle" for a Core i3-4030U, 4GB of system memory, a 500GB hard drive, and a 1366x768 display. There are small differences in the chassis: The regular models lack the silver trim and beveled edges of the special edition.