Dell Chromebook 13 review: Carbon fiber and extra-long battery life make it a class act
This is a Chromebook solid enough for business use.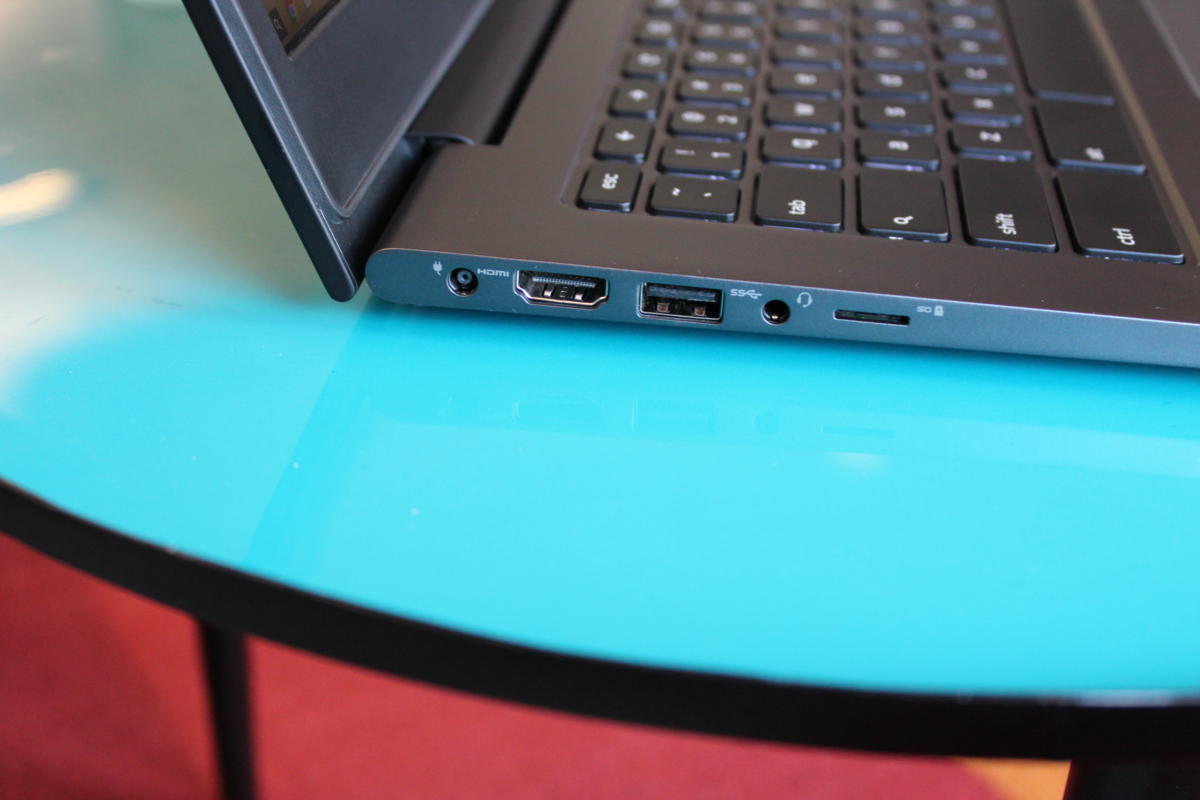 The left side of Dell's Chromebook 13 has power, HDMI 1.4, USB 3.0, headphone, and microSD card ports. slots. Credit: Melissa Riofrio
Connectivity
Networking means everything on a Chromebook, and the Dell Chromebook 13 is well-equipped. It comes with an Intel Dual-Band Wireless-AC 7260 card, which features an 802.11ac Wi-Fi antenna and Bluetooth 4.0 connectivity.
Like any skinny laptop, though, the Dell Chromebook falls short on ports. It has just one each of USB 2.0 and USB 3.0 ports, plus an HDMI 1.4 port. The microSD slot might have been all that could fit in the slim profile, but it's less common than an SD slot for taking extra storage. You also get a lock slot, plus a combo jack for headphones or microphone. There's no USB-C, but that's still a pretty new port. I would be disappointed not to see it on the next iteration of this laptop, though.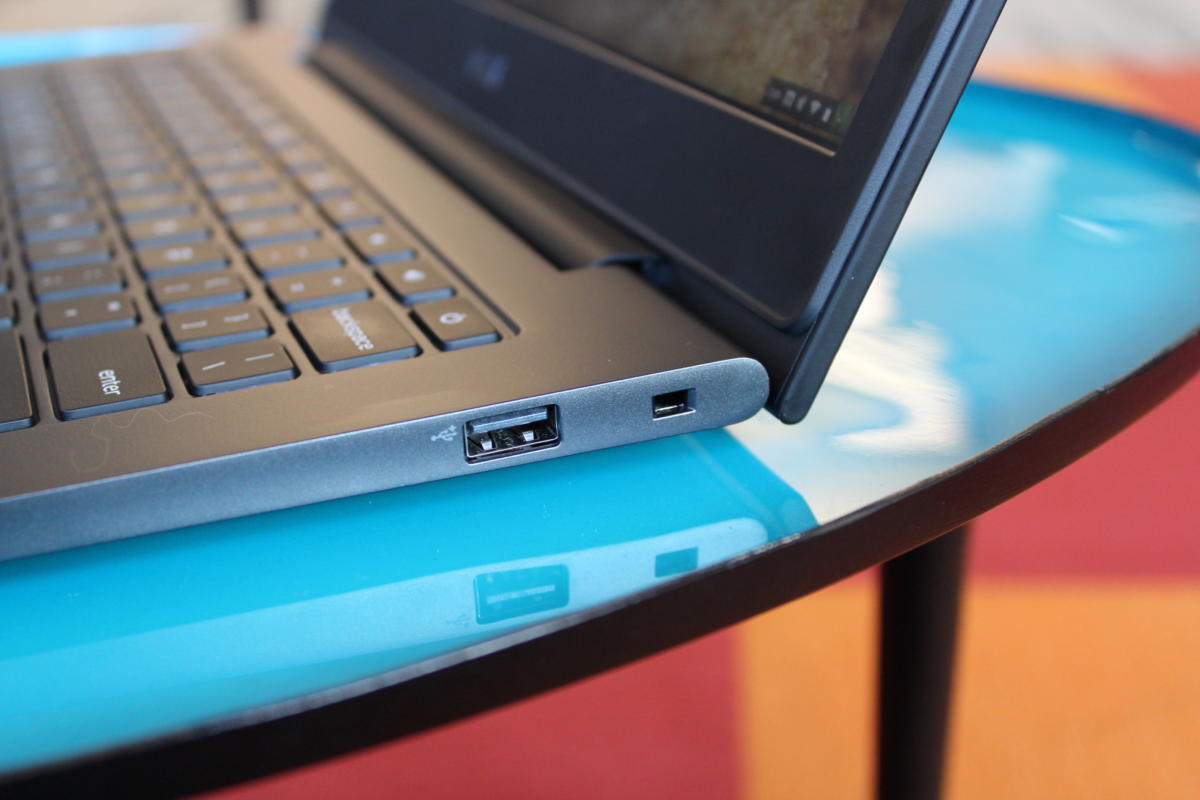 The right side houses a USB 2.0 port and a Noble lock slot. Credit: Melissa Riofrio
Performance
The Dell Chromebook 13 performed noticeably better than its peers, though its setup is nothing special. (We have a guess as to why.) Inside is an Intel Celeron 3205U processor (Broadwell) running at 1.5GHz, with 4GB of DDR3L RAM and integrated Intel HD graphics.
We compared it to other Chromebooks with the same CPU and memory amount—the Acer Chromebook C740 and an older Acer Chromebook 15. We also threw in the Acer Chromebook 15 C910, a Chromebook designed for gaming that sports a Core i5-5200U CPU (also Broadwell) and 4GB of RAM. On the other end of the performance spectrum, we added the Dell Chromebook 11, which sports an older Intel Celeron N2840 (Bay Trail) chip we've tested in Chromebooks.
In test after test, the Dell Chromebook 13 outpaced its similarly configured rivals, though not always by much. Given that the configurations are the same, the only other difference lies in the Chrome OS version when tested. Google updates its OS frequently, and we update test Chromebooks to the latest OS before we test it. While the Chromebook 13 was tested using OS version 46.0.2490.82, all the other systems in the chart were running older versions of Chrome: 41.0.2272.102 (64-bit) for the older Acer Chromebook 15, and 44.0.2403.125 (64-bit) for the rest.
Browsermark 2.1, for instance, gets right to the heart of the Chromebook's operating system, measuring graphics and computational performance within the browser. The Acer Chromebook 15 C910 handily outpaced everyone else, but Dell's Chromebook 13 was the fastest among the rest by a few percentage points.