Crossy-overs: How Pac-Man, PSY, and more made their way into Crossy Road
The freemium smash keeps expanding—and there's more planned for 2016.
From there, the team worked to bring in a very different kind of icon into Crossy Road: Pac-Man, who Hipster Whale knows very well from developing last year's great Pac-Man 256 for Bandai Namco. As with PSY, Hipster Whale wanted to create a unique experience around Pac-Man using his own legend and history, so they essentially mashed up the two games: You're still hopping between lanes in a very Tron-like setting, but now you're tasked with eating dots, too. And the classic power pellets are still in play.
"With Pac-Man, we knew it had to be about eating dots, of course," says Hall, recalling the prototyping process. "That was the first thing that went in: We put in dots. OK, that feels kind of weird being everywhere; let's narrow them down and get a nice path. And then I guess a power pellet would work, but that's an idea that was much more complicated to execute. Because all of a sudden the character is killing cars, as opposed to the cars killing the character."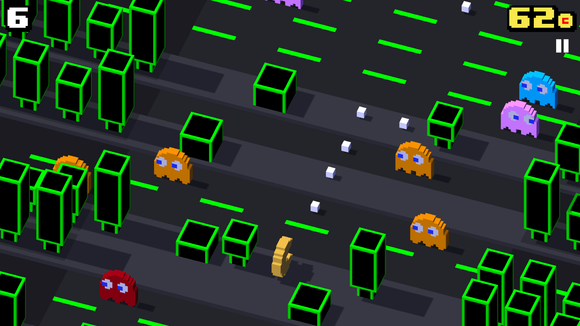 Swallow a power pill and you can eat the ghosts, just like in classic Pac-Man.
While the synergy between Crossy Road and Pac-Man 256 is on full display, the Pac-Man mode really is a lot of fun and makes sense within the game: Trying to scarf down dots while dodging the familiar ghosts (in place of cars) is a challenging new wrinkle on the experience. And unlike the PSY pack, it's a totally free addition.
More to come
Like the rest of their prototyping efforts, Hall says that he and Sum start with the smallest scope possible for new modes like this and try to get something up and running right away. From there, once the concept is proven to have potential, they polish and polish until it's fun and compelling. "The ideas are nothing and execution is everything," Hall says about Hipster Whale's design ethos.
More recently, Crossy Road saw another noteworthy collaboration with Monument Valley, ustwo's brilliant mobile puzzler. It's not quite as significant a gameplay change like what we saw with PSY or Pac-Man's introduction, but the slight shift in camera perspective (to match the influence) does alter the feel of the game. And above all, it's a beautiful tribute, with heroine Ida and other characters represented well amidst the blocky terrain.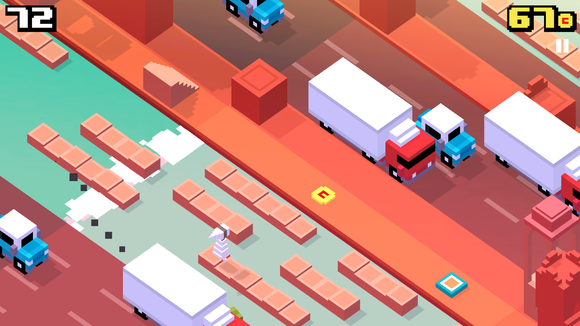 The level for Monument Valley characters tweaks the perspective and delivers a stirring tribute to the stunning puzzler.
While they're unable to specify what's ahead due to pending agreements, Hall suggests it won't be long before we hear about further significant additions to Crossy Road along the lines of these larger enhancements. "We'll do updates of various scales: Some will be small and some will be big," he says.
Previous Page 1 2 3 4 Next Page