Crossy-overs: How Pac-Man, PSY, and more made their way into Crossy Road
The freemium smash keeps expanding—and there's more planned for 2016.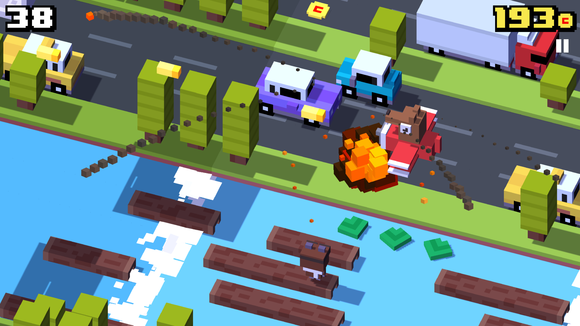 Play with a Shooty Skies character and enemy-blasting planes will zip into view on occasion—super startling if you don't expect it.
Since then, Crossy Road has seen cameos from other characters as well, including some from Shooty Skies and Land Sliders—both games that Hall is connected to. Shooty Skies, which uses a Crossy Road-like free-to-play model for an addictive aerial shoot-'em-up, hails from Mighty Games, a new studio comprised of Hall, Sum, and collaborators Ben Britten and Matt Ditton. Meanwhile, Hall and Sum have invested in and advise Land Sliders creator Prettygreat, a studio founded by notable ex-Halfbrick developers.
When Hall suggests that featuring other studios' characters in Crossy Road is a means of spreading the love, the notion seems to apply to using his success to fund other games as well, particularly in the Australian game design community.
"A good way of putting it is: When I saw people with big success previously, some people gave back to the community and some people would think, 'This success is mine,'" he observes. "And giving people a leg up is how I wished other people would have behaved when I was not successful. That's been really personally rewarding."
Headline heroes
Beyond adding familiar characters from collaborators, Hipster Whale has also done something unexpected over the past several months: They used Crossy Road as a platform of sorts to enable new kinds of experiences within the game.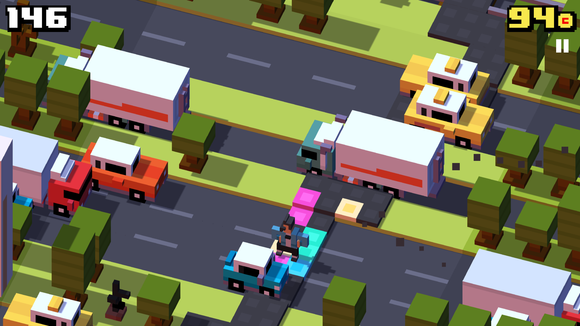 Psy's mode adds an endless dance floor to the game, with your score and multiplier only enhancing if you stay on the flashing path.
It really started with the Korean update, which they started building after a successful Australian-themed one earlier in 2015. Released in June, the Korean update added a wealth of free unlockable characters, but also a $3 add-on featuring peppy rapper PSY. Remember "Gangnam Style" from 2012? Yeah, that PSY. Rather than simply zip across the streets and rivers like any other hero, PSY's level is a dance mode that challenges you to stay on the neon, flashing panels as you dodge traffic and enjoy one of his trademark backing beats.
"PSY took a really long time, in fact," says Hall, who worked with South Korean employees of Crossy Road's Android publisher Yodo1 to arrange the opportunity. "Trying to organize a partnership with someone like PSY took a long time—and then we wanted to make sure the character was awesome, because we knew we were going to make this a premium character. It took months, really: Months and months and months."
Previous Page 1 2 3 4 Next Page