Crossy-overs: How Pac-Man, PSY, and more made their way into Crossy Road
The freemium smash keeps expanding—and there's more planned for 2016.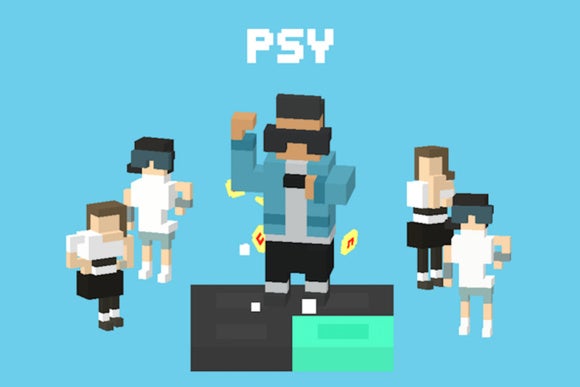 It's been a hectic year-plus for Hipster Whale, the Australian indie studio behind breakout hit game Crossy Road, to say the least. The team released Crossy Road for iOS in November 2014 and it quickly became a free-to-play phenomenon. Before long, the game spread to Android, Windows Phone, and finally Apple TV of late, and now has more than 120 million players after a holiday surge in downloads. You may have even seen the team demo the game during Apple's press event in September 2015.
"It felt like it became a phenomenon pretty quickly, and it's been a really long year—obviously with a lot of up, but it's been so tiring," admits developer Matt Hall, who co-created the game with fellow designer Andy Sum, and collaborated with artist Ben Weatherall on the game's distinctive look. "It's been really good, though."
As we said in our glowing appraisal, Crossy Road is the rare friendly freemium experience: The Frogger-esque endless hopper has no limits on play, lacks aggressive ads, and doesn't poke you constantly to spend money. Instead, the game features an expanding roster of playable characters, which not only give you a unique hero but sometimes change up the look and feel of the environment and reveal new secrets. Most can be earned for free simply by playing regularly, or you can buy them right away if desired.
That model has apparently worked wonders for Hipster Whale, drawing in players en masse and letting the die-hards spend if they please. The studio has only gotten more ambitious with its updates, bringing in new game modes featuring the likes of Pac-Man and Korean rapper PSY, as well as crossover characters from other noteworthy games. And it's just the tip of the iceberg, too.
Building character
As we've mentioned, Crossy Road's cast of characters is part of what makes this game such a joy to play, and that was purely intentional. "When we sat down to design Crossy Road, we thought that characters would be a good way to expand the game and keep it alive. We got excited about that idea," says Hall. And the original release featured a couple of cameos from characters previously seen in other iOS games. "Initially, we did that with games from our friends, like Epoch and Forget-Me-Not at launch," he adds. "They're both Australians and we know them well."
Forget-Me-Not in particular was a little-known, but critically loved puzzle game that hadn't found a wide audience. It also hadn't been updated in years. But once Crossy Road fans saw the character in the game and discovered the connection, Forget-Me-Not's sales picked up. "We felt really good about that," asserts Hall. "The cameos have been probably the most rewarding part, from almost an altruistic standpoint—that people can benefit from our massive success whether they're a small studio or big studio. And they're fun to work on."