Capitan Grocery Shopping List review: Shared grocery shopping lists for the whole family
iOS app makes a trip to the supermarket more collaborative, especially for adding those last-minute items.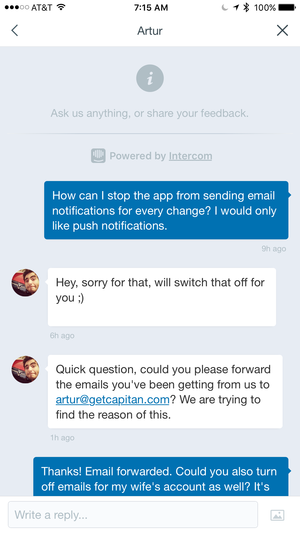 Built-in chat with the support team helps tackle any issues that may arise while using Capitan.
It's worth noting Capitan is geared toward supermarkets, so if you shop at department stores or warehouse clubs with well-stocked grocery sections (i.e., Target or Walmart), this won't be an all-in-one solution; adding the ability to create custom categories would certainly help here. The app also offers built-in chat support, and the developers were quick to respond when I couldn't log out, switch accounts, or stop an initial flood of email received when adding new items to a list; more robust account management settings are in the works to address these issues.
Bottom line
Grocery Shopping List by Capitan is on the right track, but requires further user interface, account management, and geolocation refinements before it's reliable enough to be used by the entire family.