Can the iPad Pro take on the Surface Pro at work?
Apple's new super-sized tablet arrives in November, targets the enterprise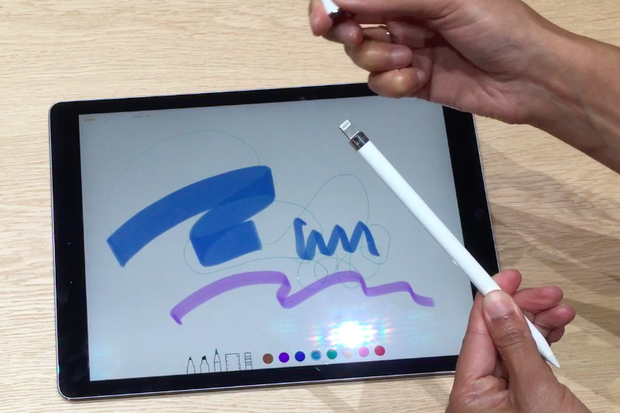 Credit: Susie Ochs
From the get go, it was inevitable that Apple's new iPad Pro would be compared to Microsoft's Surface Pro 3 (and the newer Surface Pro 4). The iPad Pro borrows heavily from the Surface Pro design with its larger form factor (a 12.9-in. screen), keyboard cover and support for a stylus -- Apple calls it the "Pencil." Diverging from Microsoft's vision, however, the iPad Pro relies on a purely mobile operating system -- iOS -- while the Surface Pro runs the same version of Windows as a desktop PC.
Pricing is similar: The iPad Pro starts at $799 for a 32GB model, $949 for a 128GB model and $1,079 for the 128GB version with 4G capabilities. The Surface Pro 4, which ships next week, starts at $999 and offers more configurations (and a top-end price of $2,199).
When looking at the two devices, most comparisons focus on the user experience, access to apps, and what might suit both consumers and business users in the long run. What's often left out of the equation are the IT implications of choosing between the two, as IT shops decide which will be easier to adopt, manage and support in their enterprise environments, both in the short and long term.
From an IT perspective, there's a natural tendency and some good reasons to stay in Microsoft's ecosystem. And by waiting so long to release a larger iPad and eschewing a concerted push for the enterprise market earlier, Apple has allowed Microsoft to pitch its tablets as the best option for the enterprise.
But is that really the case?
Integrating with existing infrastructure
Although iOS has been around for years, it remains a mixed bag in terms of integrating with traditional enterprise systems, most notably Active Directory. Active Directory is part of the bedrock of enterprise computing and is directly leveraged for authentication (including single sign-on), access control, file permissions, audit logs and PC management via group policies. Active Directory and System Center Configuration Manager (SCCM) are core tools for any systems administrator.
iOS devices cannot join an Active Directory domain (although that Macs can). iOS also doesn't support multiple users. A device is intended to have a single user, even if that device is shared among individuals such as in a classroom, retail environment, or other situations where users don't have dedicated devices.
This doesn't mean iOS devices can't be managed or configured in bulk. Apple began offering a basic, manual level of management as early as iOS 2. Five years ago, with the release of iOS 4, Apple opened the door to over-the-air management using mobile device management (MDM) solutions. Apple also offers a free tethered management tool called Apple Configurator that can be used to apply policies to devices connected to a Mac running the tool via USB. More recently, Apple introduced its Device Enrollment Program (DEP), which allows organizations buying iOS devices in bulk to pre-register them with a mobile management solution. This greatly streamlines the configuration process.