Bottom line: Should you install the public beta of iOS 10?
There are reasons to go for it, and reasons to wait. Whether you use Maps a lot is definitely a factor!
If you have an iPhone SE, iPhone 6, or any iPad, of course you don't have 3D Touch. You can still see the enhanced, actionable notifications by swiping one left and tapping View, but that doesn't feel much more convenient than just tapping the notification itself to open the app. And you can add widgets to the lineup by scrolling to the bottom of the Spotlight screen and tapping Edit for a list of available widgets, but that's the same process as in iOS 9.
Maps looks great, but at a cost
Apple redesigned its Maps app for iOS 10. The new one is good looking and easy to use. I put it through its paces on a Midwestern vacation in which we stayed in four cities over eight nights—yeah, that's a lot of driving. Maps handled freeways and country roads alike, and never steered me wrong or couldn't find an address I inputted. It just crashed a lot.
When it wasn't crashing, Maps made my iPhone SE very hot to the touch, and had a noticeable effect on battery life. Plus, sometimes I'd get to my destination, but the navigation session didn't automatically end. I'd glance at my Apple Watch after being somewhere a while, and notice, oops, it's still trying to direct me here, with the GPS running and draining battery life by the minute. I had to get in the habit of tapping End Route upon arrival if the navigation didn't stop on its own.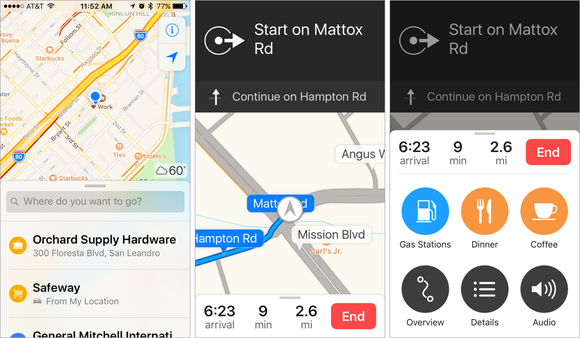 Maps looks good, but it'll be even better when it doesn't crash so often or drain the battery quite so fast.
The Maps app itself is great. The maps are clear and easy to read. The interface isn't cluttered at all. You see the arrival time as well as the minutes and miles to go, and from there you can swipe up for buttons to find gas stations, food, or coffee along the route, an Overview button that shows the whole route on a map, a Details button that shows a list of upcoming turns, and an Audio menu. One nice touch here is a new setting to pause spoken audio (like podcasts or audiobooks) during navigational prompts. Previously, the prompts would just dim the audio below them, which is fine for music but a bummer when it's talking over a podcast and you need to scrub back to hear what was said.
So the design is solid, the data was solid in my testing, and the bugs I encountered felt typical of beta software. I'm confident Apple can surely fix them with updates. But if you rely on the Maps app frequently, you might want to hold off on iOS 10 until the ride is a little less bumpy. We'll have a deeper dive on Maps early next week.