Bottom line: Should you install the public beta of iOS 10?
There are reasons to go for it, and reasons to wait. Whether you use Maps a lot is definitely a factor!
Let's cut right to the chase: The people who will enjoy the iOS 10 beta the most are iPhone 6s or 6s Plus users who don't rely heavily on the Maps app, which is now a battery hog. If you have a device without 3D Touch, or an iPad that isn't an iPad Pro, the benefits of iOS 10 are a little less, which makes waiting for the final release (or even, say, 10.01) all the more tempting.
Don't get me wrong: The first developer beta of iOS 10 was relatively stable, and the first public beta is too. The biggest bugs I've personally encountered were annoying but not deal-breakers: Maps crashing during navigation, Maps not ending the navigation when I arrive, alarms that don't want to turn off (quite embarrassing when it happens in an open-plan office), and a weird graphical glitch where occasionally the lockscreen-accessible camera would only take up half the screen instead of the whole thing.
I've been running the betas on an iPhone SE on loan from Apple, which I use as my daily carry phone. In my bag is an iPhone 6s that I bought on installments, still running iOS 9, ready for me to swap in my SIM card if I run into trouble with the SE. Hasn't happened—aside from those bugs I mentioned and generally worse battery life, iOS 10 has been great. But while I didn't used to think the iPhone SE's lack of 3D Touch was a big deal, iOS 10 is showing it to be a pretty significant weakness.
Just a 3D Touch
iOS 10's biggest difference over iOS 9 is how much you can do without opening apps. Some apps will be able to integrate with Siri, so you could, say, call a car without having to launch Lyft. Notifications are getting richer, letting you 3D Touch to get more information or take action.
And the widgets that used to be confined to the Today view in Notification Center are now also on the Spotlight screen you see when swiping right from the lock screen or home screen. Widgets let you get glanceable information without opening apps, like the next hour's forecast from Dark Sky, progress toward your activity goals, your next calendar appointment.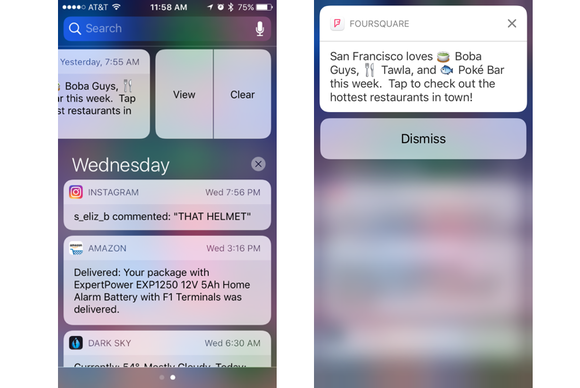 Without 3D Touch, you can still see the enhanced notifications, but swiping and tapping View is a lot clunkier than a single deep-press.
Widgets are just as handy no matter what phone you have. But getting them is done differently. On an iPhone 6s or 6s Plus, you can 3D Touch app icons to get Quick Actions, which are shortcuts to various places inside the app—that feature launched with iOS 9. In iOS 10, hard-pressing app icons shows any Quick Actions plus a widget for that app, if available, and you can add the widget to your Spotlight screen from there.