BoomStick makes your cheap Apple EarPods sound (almost) as good as Beats
Audio algorithms help make cheap earphones sound good and high-end headphones sound even better.
Instead of incorporating the technology in a new line of headphones, the BoomStick team chose to create an accessory that could work with any and all pairs of headphones you already own. The team also considered implementing these software algorithms into an app, but Apple restricts tinkering with iOS internal sound processing.
According to an independent consumer survey, 92 percent of listeners agreed that the BoomStick improved the sound quality of their headphones, whether they were Apple EarPods, Beats, Skullcandy, or Bose. The survey also claims that the BoomStick made the Apple EarPods and Samsung earphones sound better than premium headphones from Beats and Bose. But that's misleading because the respondents only tested the BoomStick with their own devices and were never asked to cross-reference cheap earphones with expensive headphones.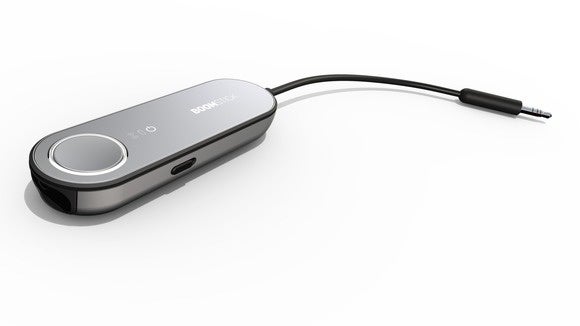 Credit: BoomCloud360
There's an inherent difference between someone who listens to music via the free earphones that came with their smartphone and someone who invested hundreds of dollars in high-end headphones. There are different expectations when it comes to something "sounding good." Furthermore, the headphone design delivers better comfort and acoustics, so comparing them with earphones is an apples-and-oranges situation.
Even though the BoomStick doesn't quiet make your cheap earphones sound as good as expensive headphones, the gadget does improve sound quality. In fact, the survey found that the BoomStick attached to Beats headphones provided the best audio quality. So whether you're an audiophile who already invested in premium headphones or just a casual listener forced to buy cheap earphones at the airport, the BoomStick will certainly make an audible difference.