BlackBerry Priv review: If you simply must have a physical keyboard
BlackBerry's first stab at an Android device is a pretty decent attempt. But will it be enough to save the company?

My selfie game is not amused by these 2-megapixels.
I was disappointed to see that BlackBerry equipped the Priv with a paltry 2 megapixel front-facing camera. Selfies are just as important as landscape shots, and I've been living life with 5-megapixel or better selfies for the past two years. The front-facing camera does pretty well with ample lighting, but in darker environments it performs horribly. I feel like I'm snapping selfies with a flip phone again.
You won't mind this version of Android

That's Lollipop, alright.
Sometimes, when a manufacturer comes along and says it wants to do an Android phone, you figure the way they plan to customize it is going to be awful. Thankfully, that's not the case with the Priv, and some of the features included in its version of Android are meant as an homage to the BlackBerry phones of the past.

The Hub is back.
The BlackBerry Hub introduced in BlackBerry 10 is back. It bundles in notifications from your email, calendar, messaging apps, and social media accounts into one easy to peruse hub. Tapping on each individual notification will take you to the app it's coming from, and you can customize alerts for each account. There's also a productivity tab associated with the app, which lives permanently on the right-hand side of the Home screen. Drag it out, and you can see the day's calendar events and tasks at a glance. You can disable it if it's too much of a bother, though.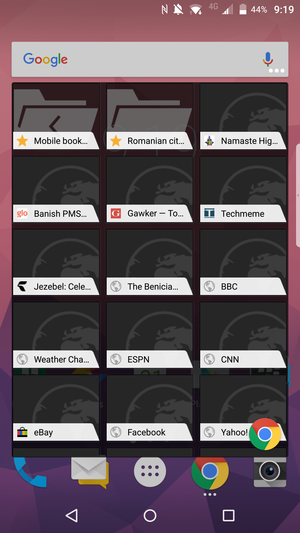 Um. The pop-up widgets are weird and I don't like them.
The BlackBerry launcher also offers a few other little software quirks. There are pop-up widgets, which let you use a widget with any app without having to paste it on your Home screen. Once you enable it in the settings, you can slide up on the icon to quickly bring up a widget and use it. But this is a confusing feature to use and, frankly, a little redundant.
The shortcuts, which live in the Application drawer, offer much more utility. You can drag and drop them on the Home screen as you need, or tap on one from the drawer to use it. I like that it eliminates how much tapping I have to do around the interface to do something simple, like making a calendar event or checking my data usage.
And lastly, a BlackBerry smartphone wouldn't be called so without BBM preloaded. Unfortunately, if you don't plan to use it, you can't delete it—you can only disable it.
Previous Page 1 2 3 4 5 Next Page