Best USB-C battery pack: We review portable batteries for the latest MacBook and iOS devices
Four contenders introduced in the last few months feature USB-C ports that can recharge a 12-inch MacBook. Two finish as strong choices for the MacBook, as well as iOS charging on the road.
Only the Talentcell provided guidance as to the number of cycles it expects for the pack to perform as expected: 500. As with all lithium-ion charging cycles, that typically refers to complete cycles, so depleting to 50 percent and charging to full counts as a half cycle.
Finally (whew!) each battery pack has a maximum combined output across all ports. The internal electrical circuitry divvies up charge by port, but also can't exceed that total when charging through multiple ports at once, like multiple iPads and iPhones. For example, the Anker PowerCore+ 20100 can output 2.4A on its two Type-A ports and 3A on its USB-C ports. With all three ports in use, however, it maxes out at 6A, with no more than 2.4A to any port.
Each pack I tested had a different set of ports. Packs around 10,000 mAh typically have just two ports; those at 15,000 mAh or above have three and sometimes four. I'll run down each port arrangement in individual reviews below.
The testing process
To test the battery in these reviews, I did the following:
Charged until charging stopped and all LED indicators are lit. (That's not 100 percent as noted above, but it's as far as each pack allows.)
Discharged until it stopped providing power over the highest-amperage port using a USB load generator.
Recharged to full using a USB-based gauge to measure that transfer.
Charged a 12-inch MacBook from 0 to 100 percent, or as close as the battery would allow.
By discharging a battery to its reported empty state with a load generator, I ensured that the maximum possible current that a manufacturer listed for a port worked consistently without causing a battery to shutdown or experience other problems. In some cases that was 2A; others, 2.4A. Because they can pull power at that rate for that long, I know that any phone, mobile, or other device can do the same. Actual hardware pulls varying amounts of current and power, rather than a perfectly consistent continuous load, so should perform even better. None of the tested packs had problems, which isn't the case with all USB packs on the market.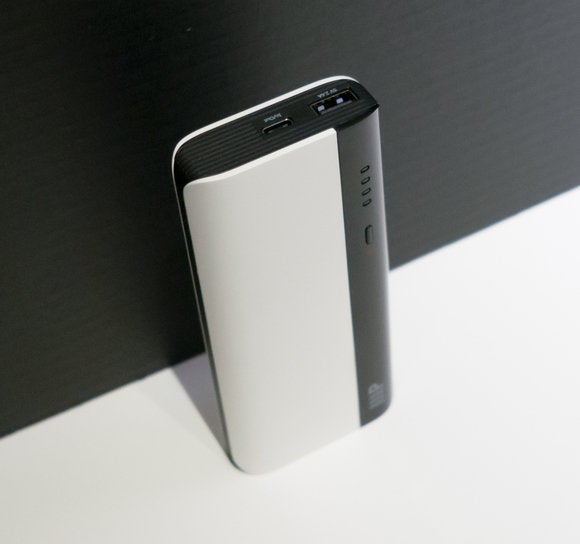 Monoprice Select Series Portable Cell Phone Charger. Credit: Glenn Fleishman
The USB gauge I used (from Portapow) let me measure the voltage and current, and track the time for the entire charging process, as well as see what the gauge measured as total mAh at 5V (or, with Quick Charge 2.0, at 12V). This let me ballpark after factoring in conversion and heat loss that the batteries performed as expected relative to their rated capacity. Unfortunately, there are no USB-C-based power meters yet that are affordable outside of high-end testing labs, so all measurement was done through adapters to the Type-A connectors on the meter, which seems to have reduced recharge speed as none of the devices cross 2.4A in recharging, even when they were rated for 3A.
Previous Page 1 2 3 4 5 6 7 Next Page