Best USB-C battery pack: We review portable batteries for the latest MacBook and iOS devices
Four contenders introduced in the last few months feature USB-C ports that can recharge a 12-inch MacBook. Two finish as strong choices for the MacBook, as well as iOS charging on the road.
To sum up? Batteries can't give up their last ergs of juice, can't be charged to 100 percent (and you never know quite how close), and lose power in converting over USB and back. This adds up.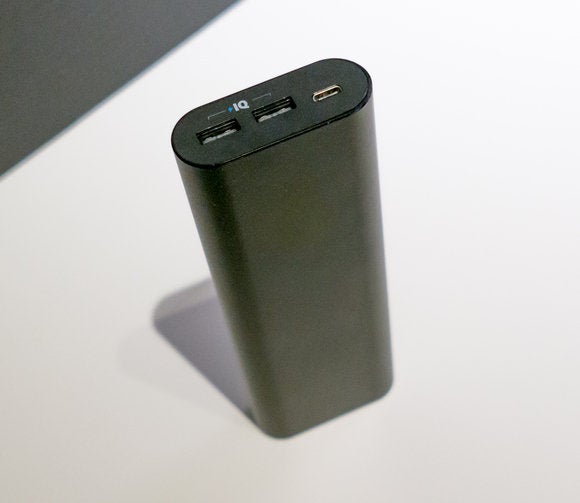 Anker PowerCore+ 20100. Credit: Glenn Fleishman
In my testing, the best of the two highest-capacity batteries (both over 20,000 mAh) delivered 55 percent of its rated capacity to a MacBook. That was still enough to completely recharge a MacBook battery with some left over, which is magnificent both for performance and by price and weight. But it's not as much as you'd reckon by using rated numbers alone. I'll get into this more with individual reviews.
Another factor with power is "speed"—in this case, that's directly related to amperage. Because USB's voltage is fixed at around 5V, you have to up the amps to move more power, which equates to moving power "faster." Devices with larger batteries, like tablets or these large USB battery packs, need high-amperage chargers to refill them in any reasonable amount of time. You also need high amperage to charge a device faster than it's depleting power if it's in use while charging.
Originally, most USB packs maxed out with ports that could each pass power at about 1A, fast enough to charge a smartphone at full speed. But an iPad Air 2 and iPad Pro can charge at 2.4A (and the Pro even faster with a higher-amperage adapter), and iPhones for years charge fine at 1A, but can bump up to as fast as 2.1A with an iPad charger.
Modern packs typically have ports that can be rated at 2.0A, 2.1A, or 2.4A; all the packs tested have at least one Type-A 2.4A port, and one USB-C 3A port. Modern packs also use USB and other signaling to provide as much power as a device can accept but no more, while mobiles and computers won't accept more power than they can safely use. (USB packs' ports default to 1A or lower if they can't sort this out with an attached device.)
Faster only works to a point: For keeping their lives long, batteries should only be charged between about a 0.50 and 1.00 ratio of amperage to capacity, which is called its C rating. An iPhone with a 1,715 mAh battery charging at 1A has a 0.58C rating, considered "gentle" and which maximizes cycles. Charge it at 2.1A, and you're well above 1C, but Apple appears to have factored in, as it allows charging at that high a rate. The USB power packs I tested charge at about 0.15C to 0.30C; future packs might work with higher-wattage cables and adapters for faster recharge rates.
Previous Page 1 2 3 4 5 6 7 Next Page