Best USB-C battery pack: We review portable batteries for the latest MacBook and iOS devices
Four contenders introduced in the last few months feature USB-C ports that can recharge a 12-inch MacBook. Two finish as strong choices for the MacBook, as well as iOS charging on the road.
OS X requires changes to better recognize the kind of external device providing charge, rather than treating them as a "power adapter" as the MacBook did for all the batteries tested.
USB-C's higher rate of power flow lets some of the batteries I tested recharge rapidly, although you need to find a high-wattage USB adapter to make that work as well—none ship with such an adapter. (One pack can use Qualcomm's Quick Charge 2.0 technology, which boosts voltage for faster charger when used with a USB power adapter with the same tech.)
Being able to bring a relatively lightweight battery (half a pound to a pound) that carries a partial or full additional MacBook charge or could partly recharge a MacBook and handle an iPhone and iPad (some charging three devices simultaneously) can make extended travel away from electricity very practical. This can especially include long-haul flights where onboard power isn't available or that power isn't enough to charge devices fully. You would no longer have to camp at an outlet or leave hardware in a vulnerable place to charge via AC.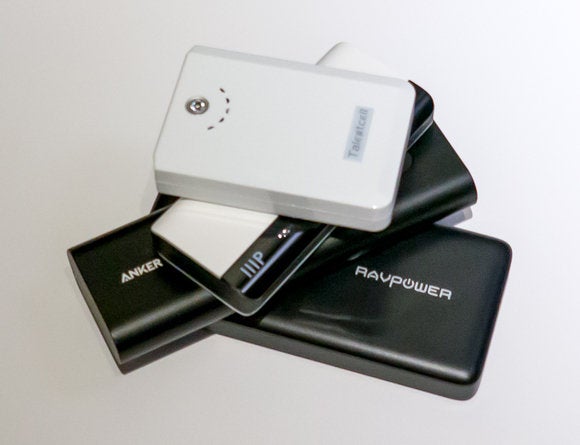 From top to bottom: , Talentcell 10400mAh 38Wh Portable Charger, Monoprice Select Series Portable Cell Phone Charger, Anker PowerCore+ 20100, and RAVPower 20100mAh External Battery Pack. Credit: Glenn Fleishman
In this roundup, I look at four USB packs that feature a USB-C port for charging; some can also recharge through the port. These models appeared on the market starting in fourth quarter 2015, and three are from companies with good track records on electronics, cables, or batteries. (The fourth is less known, but its battery tested very well.) I tasked them to discharge and recharge on their own, and replenish a USB-C MacBook.
To understand how these products were evaluated, it helps to understand the nuances of elecricty.
Juice it up
Unlike the fancy design-to-purpose batteries you'll find inside Apple products, every USB battery pack I'm aware of uses cells purchased from a battery-making firm. Apple and other companies mold or terrace lithium-ion (Li-ion) polymer batteries to fit every nook and cranny. Mass-produced cells, however, are typically round, like normal alkaline and rechargeable consumer batteries, although they are often much larger.
While some small packs use flat arrangement to stay compact—such as Amazon's super-cheap $6 Micro-USB Portable Power Bank—larger USB packs like the ones I tested rely on standard cylindrical cells and package them with the circuitry, heat dissipation, and connectors needed to move power in and out.
If you're not familiar with power basics, here are just a few. The simplest way to discuss electrical power is in units of volts (V), amperes or amps (A), and watts (W). These can be compared to water pipes and water flow. Voltage is pressure, or the amount of water in a given space; amperage is pipe diameter, which has an impact on pressure. Low-amperage (a small diameter pipe) requires high voltage (lots of pressure) to move the same amount of power as a high-amperage (big diameter pipe) with low pressure (low voltage). Wattage is the product of amps and volts, describing the power (the "work") passing through the system.
Previous Page 1 2 3 4 5 6 7 Next Page