Asus ZenBook UX305 review: Still the best budget ultrabook around
The Asus ZenBook gets the Skylake treatment while keeping its low price.
Office performance
To test the Core m3's mettle with office drone tasks, I turned to PCMark 8 Work, and the results aren't surprising. Anyone who uses a computer for work knows that once you get enough RAM, an SSD, and a reasonably fast CPU, you'll have no problem pushing around Microsoft Word, PowerPoint, and most common business apps. The PCMark 8 results highlight this: The UX305's Core m3 performs closely with the Core i5 and i7 chips in the pack. You have to dip down to an Atom X7 before you really feel the pinch, and even that isn't a deal-breaker for everyone.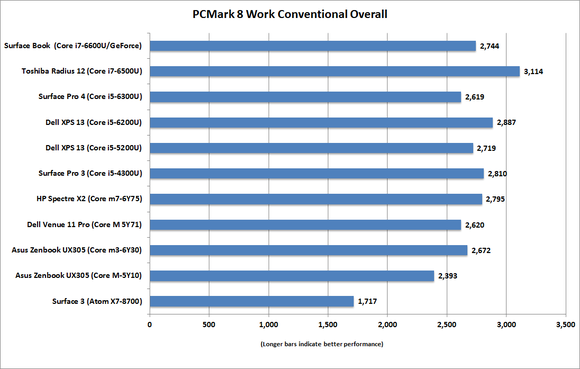 For most Office tasks, you'd be hard pressed to notice a difference between a Core i7 or Core m chip. (Click to expand).
Pure CPU performance
As this is the first Core m3 laptop we've reviewed, I was curious about its performance with something more CPU-intensive. For that I turned to Maxon's CineBench R15 benchmark. This test renders a single 3D scene using all of a CPU's cores. It's a pure CPU benchmark in that the memory and storage performance don't matter much.
The results are interesting. Last year's Broadwell Core M-5Y10 performs nearly identically to this year's Skylake Core m3-6Y30. Both outpace Dell's Venue Pro 11 with its Broadwell Core M-5Y71, as well as HP's Spectre X2 with a Core m7-6Y75.
On the surface, it might seem strange that the two better CPUs performed worse, but consider that the Spectre X2 and Venue 11 Pro are both 2-in-1s. All of their computing parts, including the CPU, reside under the screen. Heat concerns prevent the CPU from being pushed as hard as in a traditional laptop, such as the UX305.
Still the UX305's m3, as well as all the other mobile CPUs here, show a notable drop-off in performance from the Core i5 and higher chips. This correlates directly with the mobile parts' absence of fans.
Before this sways your buying decision, let me point out that the CineBench test is a heavy workload that the typical laptop user won't run. If you don't anticipate doing 3D rendering, heavy video editing, or any other task that strains the CPU, the lack of a fan shouldn't have a noticeable effect.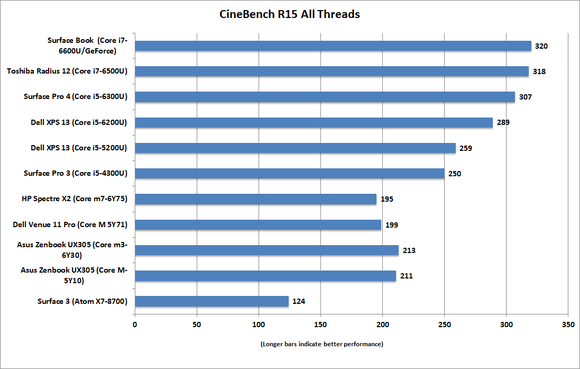 The Core m and Core M fanless CPUs lag behind Core i5 and Core i7 chips in pure CPU performance. (Click to expand).
Graphics performance
While CineBench is a pure CPU test with fairly predictable results, our graphics test revealed some curious findings. The newer Skylake-based Core m3 with its Intel HD Graphics 515 is dead-even with the Core m7 in the HP Spectre X2. Both are also dead-even with the older Haswell-based Core i5-4300U in the Surface Pro 3.