Apple's Cook: iOS 7 is the 'biggest change to iOS' since iPhone's arrival
At the Worldwide Developers Conference keynote, Apple on Monday took the wraps off iOS 7, the next version of its operating system for the iPhone, iPad, and iPod touch.
The App Store, like OS X Mavericks, now gains the ability to update apps automatically in the background.
Music
Cue called the iOS 7 Music app "the best music player we have ever done."
You don't just see your content on your device; you also see all your iTunes in the Cloud purchases—not just for music, but for movies and TV shows too.
Cue also introduced iTunes Radio, a new way to browse music on your iOS device that's built into the Music app. iTunes Radio includes a set of featured stations curated by Apple's music editors, along with music that's currently popular on Twitter. You can share stations with friends, or create new stations based on specific artists. You can skip ahead past songs you don't want to hear, too.
In addition to featured stations, you can create your own as well. You can create stations by musical genre, or by a specific artist or song.
More features in the fall
Apple only previewed 10 of iOS 7's new features on Monday, but more are coming when the update is released this fall, if the company's last iOS 7 slide is any indication. iOS 7 will be available as an upgrade for the iPhone 4, 4s, and 5, iPad 2 and later, iPad mini, and the fifth-generation iPod Touch.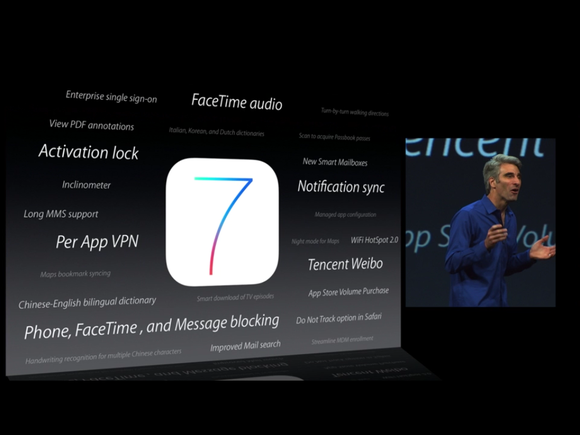 Apple only showed off a fraction of the changes it has planned for iOS 7.
Potential features we might see this fall include audio-only FaceTime over Wi-Fi, number and address blocking, notification sync, support for Smart Mailboxes and improved search in Mail, and activation lock, which requires your iCloud username and password after a remote wipe.
Updated at 1:41 p.m. PT to include more information about new features in iOS 7.
Associate Editor Caitlin McGarry contributed to this report.
Previous Page 1 2 3 4