Apple Watch apps will get much more useful with WatchOS 2
Developers will soon be able to free themselves from the iPhone and tap into the full array of Apple Watch sensors.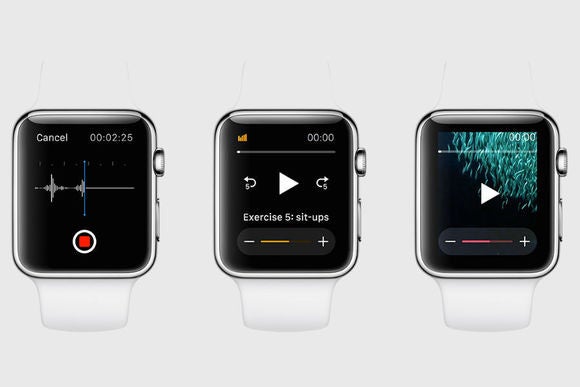 Apple is removing the training wheels for Apple Watch app makers, letting them take full advantage of the device's hardware.
Currently, Apple Watch apps can't function without a paired iPhone, which handles not just Internet connectivity but core functions such as the app's logic. These apps also can't tap into key hardware features such as the microphone, motion sensors, the heart monitor, and the Digital Crown.
All of that's going to change now that Apple is allowing native app development on the Watch. The new and improved apps should start to arrive this fall, alongside the release of WatchOS 2 and iOS 9.
Why this matters: The Apple Watch is an exquisite piece of hardware, but one that can be extremely frustrating to use. Users are frequently confronted with loading screens, as third-party apps struggle to load everything they need from a paired iPhones. And when these apps finally load, most of them are of limited utility. The new powers that Apple is granting to app makers, along with some added features in WatchOS 2, should go a long way toward turning the Apple Watch into a useful accessory.
Better apps and more
Let's start with a rundown of what Apple is making available to app makers:
Native apps: By moving the app logic from the iPhone to the Watch, apps should have faster load times. The Watch will also be able to connect to known Wi-Fi networks, so apps that depend on an Internet connection can work even without an iPhone in Bluetooth range.
Sensors: Apps will be able to play audio through the Watch's built-in speaker, record audio through the microphone, detect motion from the accelerometer, and read heart rate data.
Input: Developers will be able to use the Digital Crown for custom app controls, such as dials and scroll bars. They can also create custom sound and pulse alerts with the Taptic engine.
Health: Third-party fitness apps will run on the Watch without a paired iPhone. The data from these apps can feed into Apple's daily activity reports, and can integrate with Apple's HealthKit framework.
Complications: Straight from the watch face, users will be able to glance at information from third-party apps, such as sports scores, flight information, and smart home status.
Apple isn't just relying on app developers to make the Apple Watch more useful. It's also adding some of its own new features in WatchOS 2.
The watch face, for instance, will allow for custom photos and slideshows, along with Apple-made timelapse images of popular cities. In a obvious nod to the Pebble Time , watch faces with Complications will also let users scroll on the Digital Crown to see information from the past or future. There's also a new nighttime mode that displays an alarm clock when the watch is resting on its side.