Apple resolves the MacBook Pro battery life issues found in Consumer Reports testing
A bug in Safari may be the reason Consumer Reports got such wonky test results.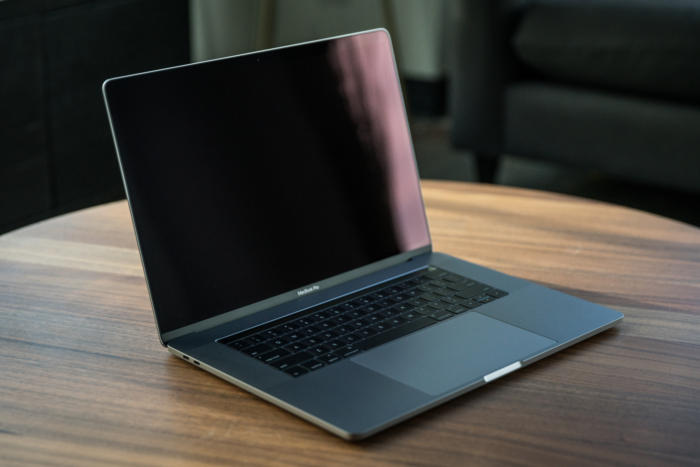 Apple and Consumer Reports have been working together to determine the issues that Consumer Reports had with the new MacBook Pro's battery life during its review, and on Tuesday, both issued statements on their findings. It turns out that Consumer Reports uses a developer setting that typical users don't use, and also that the same setting has a bug that affects performance.
In its review of the MacBook Pro, Consumer Reports said its battery life test results varied wildly, from 4 hours to 19 hours. Consumer Reports explained on its website that its laptop battery tests do not necessarily reflect real-world usage; instead, tests are designed to be consistent across different laptops for comparison's sake. In the case of the MacBook Pro, Consumer Reports' battery tests uses Safari in Developer mode, which is not the default setting. (You might not even know that Safari has such a mode.)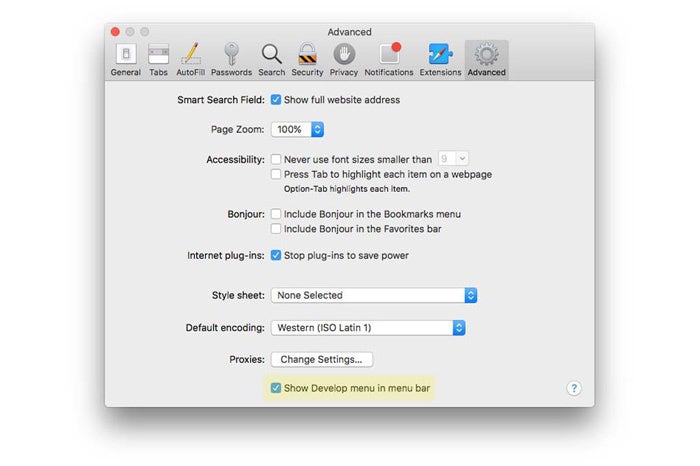 IDG
To enable Developer mode in Safari, go to Safari's preferences and then click on the Advanced tab. Check the box at the bottom on the window that says, "Show Develop menu in menu bar."
Consumer Reports' battery test involves downloading "a series of 10 webpages repeatedly," but the publication turns off Safari's caching ability in order to load fresh webpages. Caching is on by default, and the only way to turn it off is by using Safari in Developer mode. "This is not a setting used by customers and does not reflect real-world usage," Apple said in a statement.
During their research, Apple and Consumer Reports discovered a problem when you use Safari with the cache disabled. Said Apple, "[Consumer Reports'] use of this developer setting also triggered an obscure and intermittent bug reloading icons which created inconsistent results in their lab. After we asked Consumer Reports to run the same test using normal user settings, they told us their MacBook Pro systems consistently delivered the expected battery life."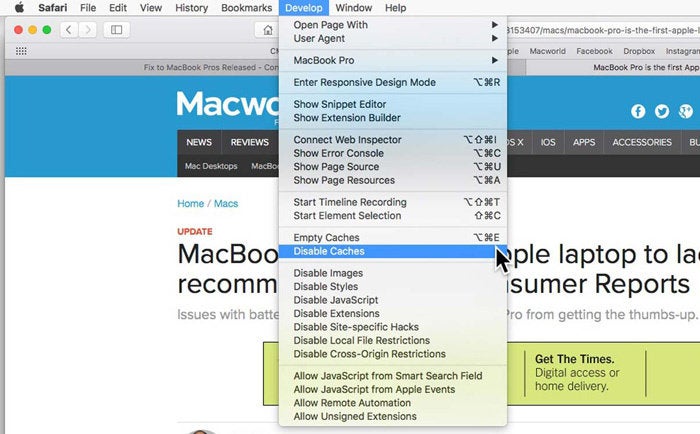 IDG
After activating Developer mode in Safari, a new Develop menu appears between the Bookmarks and Window menus. To disable the cache, click the Develop menu and select Disable Caches. This will cause Safari to ping the web server every time and reload all the content of a page, even if an element has already been downloaded. Consumer Reports disables the cache "to collect consistent results across the testing of many laptops, and it also puts batteries through a tougher workout."
In its statement, Consumer Reports said that when it turned caching on and did an initial set of retests, the MacBook Pro produced "consistently high battery life results." Consumer Reports said it is retesting the MacBook Pro and will update its review. As for the bug, Apple has created a fix and it's currently being tested as part of the Beta Software Program. Once the beta run is complete, the fix will be issued publically through Software Update.