Apple Pencil review: Much sharper than the average smart stylus
Apple's pressure-sensitive writing tool is at once completely sophisticated and totally easy to use.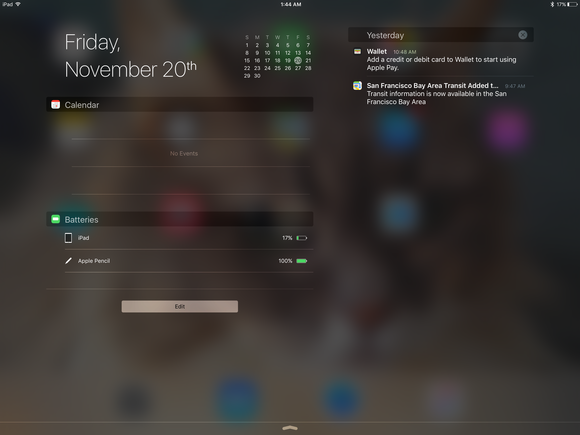 To check the Pencil's battery life, just add the Batteries widget to your Notification Center.
Battery life, in this case, is academic, and the Pencil has no onboard battery indicator. However, you can check the battery level by enabling a Batteries widget in Notification Center; plus, an onscreen alert flashes when the battery hits 5 percent.
Bottom line
If you're an iPad Pro owner, should you buy the Pencil? That's a no-brainer—Apple hit it out of the ballpark in terms of ease of use and performance. Even those who feel they have no specific use for it right now will likely find it makes life easier in various, unexpected ways.
If you are an iPad owner that does not need an iPad Pro, it's OK to be annoyed that you can't use the Pencil with the rest of the iPad lineup—but that might not be the case forever. I think Apple should democratize the Pencil, upgrading the next generation of iPads to take advantage of at least some of the Pencil's charms.
Previous Page 1 2 3 4