Apple Pencil review: Much sharper than the average smart stylus
Apple's pressure-sensitive writing tool is at once completely sophisticated and totally easy to use.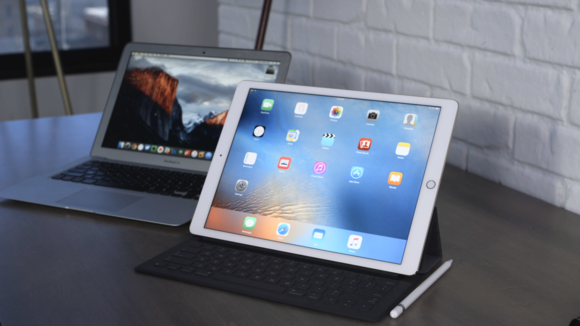 The Pencil feels like a pencil, only more slippery since it's finished with smooth, shiny white plastic.
Automatic and accurate palm rejection makes the Pencil convenient because I can actually park my fist directly on the iPad's glass while writing, drawing, or painting without having to worry about errant marks showing up on the canvas.
And that brings me to the screw-on tip. Most high-quality styluses advertise their presence with a clicky little sound that gets old really fast. When I'm stressed or frustrated with a project, the last thing I want to hear is a clickety-clack. The Pencil has a point, but its materials make a very muted sound, which is much more agreeable. Apple thoughtfully includes a replacement tip in the box, just in case.
The only problem is losing tiny things. The second tip can stay in the box until you need it, but take care not to lose the adapter that connects the Pencil to your Mac or an AC power adapter for charging, or the little cap that covers the Lightning connector, as you cannot park both on the Pencil at the same time.
Limited use cases
To use the Pencil, which at $99 I consider reasonably priced, though on the high end of the spectrum, you also need the iPad Pro, which starts at $799 and goes over $1,000. The Pencil is totally useless on any other iOS device.
It's a little disappointing that Apple limits the Pencil to iPad Pro users, when it could potentially engage a larger audience of late-model iPad users. Apple appears intent on creating a uniquely superior experience with the Pencil, so that a different kind of interaction, with perhaps more latency and less pressure sensitivity and tilt awareness, would defeat the purpose. Nonetheless, some people will stick with their laptops and smaller iPads and never need the iPad Pro. Depriving them of the Pencil doesn't seem quite fair.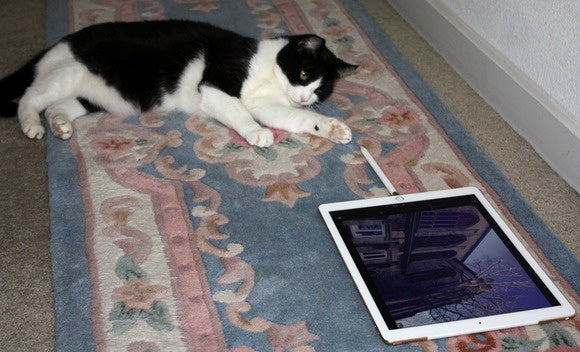 Yes, kitty, just plug the Pencil in to the Lightning port to give it a quick battery boost. Credit: Jackie Dove
Both the Pencil and the iPad Pro hold up well in terms of battery life, and the when the Pencil's charge does drain, it takes almost no time to get it up and running again. The initial charge lasts about 12 hours, but 15 seconds plugged into the Lightning connector of the iPad Pro gets you back to work for another half hour before you can even lose your train of thought.
Getting a quick battery boost directly from the host device—without having to get up out of your chair to hunt for a cord or charger—is the way we all should work. Charging the Pencil is easier and faster than sharpening a regular pencil.
Previous Page 1 2 3 4 Next Page