Apple Pencil review: Much sharper than the average smart stylus
Apple's pressure-sensitive writing tool is at once completely sophisticated and totally easy to use.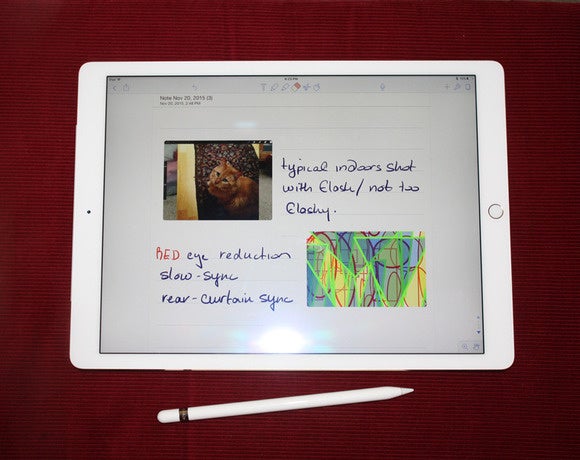 Handwriting feels fluid and looks great too. Credit: Jackie Dove
Cursive handwriting and printing can be a heartbreak with many styluses, and performance varies widely. However, I have yet to see a handwriting function that works quite as well as Pencil. (It reproduces my poor penmanship flawlessly.) Pencil is a totally natural notetaker and such a pleasure to use, that I'm almost tempted to lug the iPad Pro around for the sheer joy of writing with it. And just for the record, I thoroughly enjoyed sketching with it too, though I'm far from a freehand artist.
Use and handling
Styluses are a personal thing. What feels right to one paw doesn't necessarily translate to another. Apple's Pencil has just the right amount of balance and heft so that I can use it for long periods of time without feeling hand strain, just like a traditional pencil. That's actually a bigger deal than it sounds. Only one other stylus I've used competes, and that's Adobe's Ink. Most other styluses wear out my hand in a surprisingly short period of time.
That said, I would have appreciated the instrument to have more of a matte feel, as opposed to the slick plastic surface. It was not hard to grip, nor did it slip from my fingers, but it would feel even better with an ever-so-slight degree of velvety friction on the surface.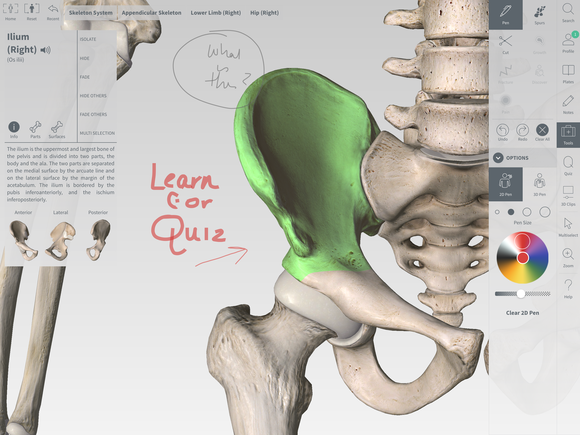 The Pencil isn't just for drawing. Complete Anatomy, an interactive medical textbook, supports the Pencil for taking notes and marking up drawings.
That's also related to the diameter. Being a pencil, it's thin. And for drawing, that's great. But when I'm taking notes with it, I'm reminded of how I tend to go for pens with a bit of a thicker barrel to ease the strain on my hand as the words fly from by brain to my fingertips. I'm not advocating Apple make the Pencil barrel thicker, but rather expressing that the variety of tasks the Pencil affords will offer different experiences.
The Pencil is pencil-like in length, so my small hand was just about able to handle it in a natural way. It edges toward being a bit too long, and I'm glad Apple decided not to use the end tip as an eraser, like traditional pencils, because at that length, it might feel awkward.
Most styluses are an either-or affair: You're using your finger or you're using the stylus. Thanks to a new touch subsystem in the tablet, the iPad Pro can recognize both inputs simultaneously and accurately differentiate between the two.
Previous Page 1 2 3 4 Next Page