Apple Music feels at home on Android, but it's missing a few things
Far from a quick-and-dirty iOS port, the music service looks and acts like a proper Android app.
No, it's not a dramatic reinvention of Apple Music's mobile experience: the sections are the same and the overall visual aesthetic is largely carried over between versions. But here, you get a proper Android navigational experience. The "hamburger" menu icon is there on the upper left to tap, or you can pull out the same menu drawer by swiping from the left side. Putting the various sections in that menu means they aren't available on-screen at all times as small buttons, but it also minimizes the clutter to some extent.
All told, it's a fair balance between approaches. You get the familiar look of Apple Music on iOS with concessions to how things are done on Android, and it all works well. The screens can still feel cluttered in places, but that's something for Apple to refine across the board as the service matures. The Android version even gets a little extra customization in the form of the ability to set the size of your local playback cache, which helps smooth out playback and trim data waste.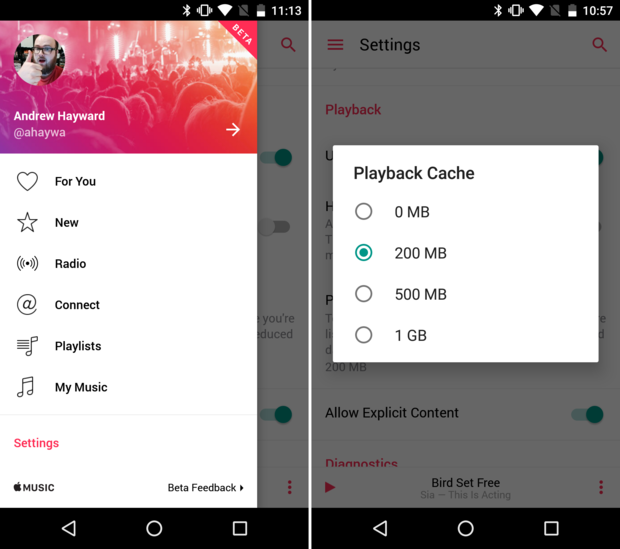 Rather than always-visible buttons, you'll tap the hamburger button or pull out the drawer for section access.
Unfortunately, one of Apple Music's biggest perks isn't yet fully available from an Android phone: the well-priced family plans. While Spotify charges $5 per additional user on your family plan over the $10 base fee, Apple Music only wants $5 extra in total for up to five more users. Got a six-person family? It's still just $15 a month.
That's awesome, but the Apple Music beta on Android doesn't allow family sign-ups from the app. You'll need either an iOS device or Mac to tackle that process. You can sign up your family from iOS or Mac and then use that account on an Android device, or just sign up for a single account via Android and then convert it later on one of those devices. Surely Apple will sort out its family plan issues by the time those three-month trials end, so the latter option might make sense if you don't own any Apple hardware.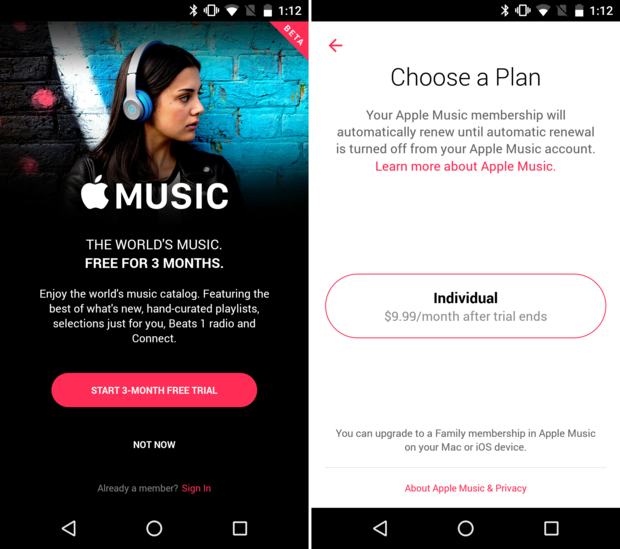 You can sign up for a free trial as a single user, but family accounts require a Mac or iOS device to create or convert.
Sadly, Apple Music also isn't fully compatible with Google Now voice commands at this point; if you ask Google Now to play an artist or song, Apple Music won't be listed as one of the available apps, and you can't ask Now to go directly to something in the app. There's no word yet on whether that functionality is even planned (we'd love to have it), but it would be a helpful addition to help put it on par with other Android streaming options.
Previous Page 1 2 3 4 Next Page