Android N: 5 features we love in the new OS
The next version of Android is still in preview, but based on what we've seen, we can't wait to start using it on our phones every day.
Android N, the next version of Google's mobile OS, doesn't yet have an official name. And it doesn't have a release date—though we know it's coming "later this year." However, the third version of the Android N developer preview is finally polished enough to be deemed a full-fledged beta, so we're ready to install it on all our Nexus devices.
Android N is packed with scads of nitty-gritty improvements, many of which are under-the-hood. But here are five relatively showy enhancements that make us ridiculously excited for the eventual launch of Google's next mobile OS.
Two apps, one screen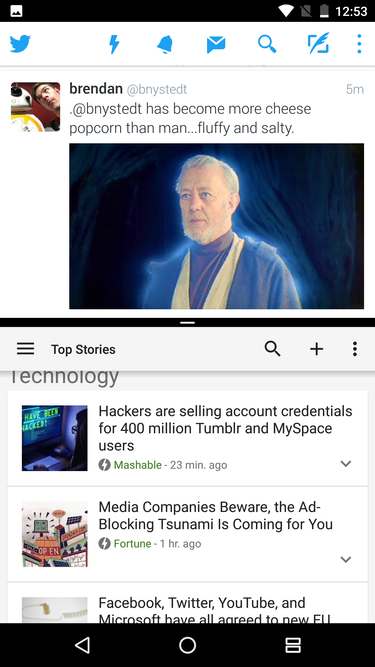 Multi-window mode will be a boon for anyone who needs to move quickly between two apps.
Ah, multi-window support. Google has been teasing this highly anticipated productivity feature since the Android N developer preview first went live.
Here's how it works: From the Recent apps screen, press and hold the app that you want to run side-by-side with another. Once you get a prompt, drag that app to the top of the screen. You'll now be able to open another app from the Recent apps screen below it. Voila: Two apps, side by side, in a split-screen arrangement.
To get out of multi-window mode, you can long-press the recent apps list. This restores the primary app to full-screen. You can also slide the edge of the app you want to retain all the way to either side of the screen. This will close up the secondary app, and make the primary app full-screen.
Not all apps will work with this feature, so you'll have to experiment a bit. And please note: There's also a free-form mode that will be made available for larger Android tablets. This feature will let you resize your app windows to different dimensions.
Direct Reply

The direct reply feature is one of the most simple, useful features in Android N.
Android N offers a Direct Reply feature that will let you respond to messages directly from your notifications shade, as illustrated above with a Hangouts notification. And best yet, it will work with any messaging app that uses the Google API. In some apps, you'll also be able to snooze a message, or file it away for later.
Smarter Quick Settings

Aching for more customization abilities in the notifications shade? Android N's bringing it to you.
Marshmallow brought us Quick Settings, but Android N will bring us dynamic Quick Settings. You'll still see the same small icons that deliver direct access to frequently used functions, but with Android N you'll be able to customize which of those settings appear in the set.