Android device updates: Galaxy Note 5, AT&T Galaxy S5 snag new software
The S5 gets Android 5.1, while the Note 5 gets some helpful fixes and stepped-up security.
A couple of Samsung phones lead the pack in this week's collection of Android updates.
No, you won't get Marshmallow, but you'll at least have the latest version of Lollipop if you have last year's Galaxy S5. The Note 5 also gets some security updates, which should squash Stagefright and other nasty exploits.
Each week, we compile all the major software updates to hit the Android ecosystem, including phones and tablets on U.S. carriers, unlocked phones, Android Wear smartwatches, and Android TV devices. Making sure your device is running the latest available software is a good housekeeping practice, ensuring you have the latest features with fewer bugs and gaping security holes.
Samsung
Galaxy Note 5: Samsung pushed out an update that improves call stability, battery life, and security. The software is 176MB, and is available as an over-the-air download.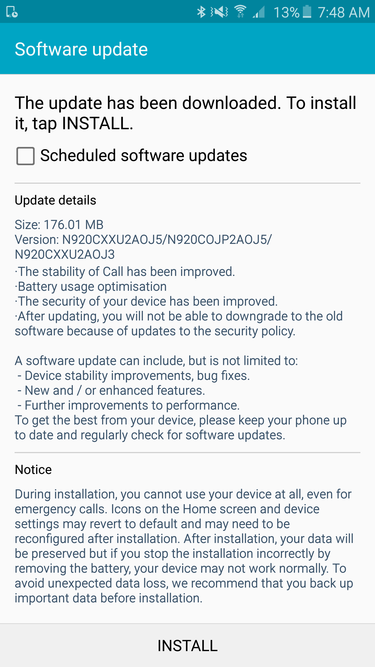 It's not a huge update, but beefed-up security is always a good thing.
I went to the Software Updates section of the settings in order to trigger the update. I have an unlocked version, however, so it may be worth checking with your carrier if you don't see the update yourself.
AT&T
Galaxy S5: No, you aren't getting Marshmallow. But at least you'll be up to Android 5.1.1, the most recent build of Lollipop. According to AT&T, this update also includes Android for Work, security fixes, and a patch for the Ultra Power Saver mode.
Sony
Xperia M4: Sometimes, a good update is one that removes software from your phone. That's the case with Sony's Xperia M4 Aqua, which eliminates several preinstalled apps with the latest software update. Since the phone only has 8GB of space (some models as low as 4GB) that storage is quite the premium.
OnePlus
OnePlus One: This is a pretty minor update to the Cyanogen OS build to the OnePlus One. There's a ZIP fresh for the taking, though make sure you're running a stock build in order for the download to install properly.