Android 7.0 Nougat: 6 helpful new features to try first
Don't really know where to begin with Google's latest mobile operating system? We can help.
You can choose to whitelist apps you don't mind using data rampantly in the background.
Apps are completely restricted from sending or receiving data in the background when Data Saver mode is enabled. They only access data when you're actively using them, and even then you won't have access to everything. For instance, in apps like Instagram, photos will load only once you land on them.
Curate the Quick Settings menu
These are the "peek-a-boo" Quick Settings available with the first swipe down of the notifications shade.
Marshmallow brought with it a revamped Quick Settings panel, though you couldn't edit which options appeared up top. In Nougat, you can now curate which settings options appear in the notification shade.
Easily edit which apps to include in the Quick Settings panel.
It's exceptionally easy to set up: Swipe down twice to expand the notifications shade and then tap the Edit button underneath the Quick settings. From here, long-press on a setting to drag it where you'd like. Note that the first five options will be visible with the first drag of the notifications shade, and that the rest of the options appear after the second swipe down. Nougat also allows you to add on an additional page of Quick settings if you need it.
Customize the camera's volume button
The volume button can now be used as a shutter button in Nougat's default Camera app.
This is a minor addition to Nougat, but it'll make snapping photos easier for everyone involved. In the camera app, tap on the options button and then select Settings. From there, tap on Volume Key Action, and then choose what you'd like the volume key to do: shoot a photo, zoom in, or turn up the volume.
Set up a keyboard theme
If you're like me and uninterested in running a third-party keyboard app, you might appreciate that Google finally added in the ability to customize the keyboard theme.
If a pink keyboard is your thing, you can have one in Nougat.
In the Settings panel, tap Languages & input and then tap Virtual keyboard. From here, tap the Google Keyboard option, and then tap Theme.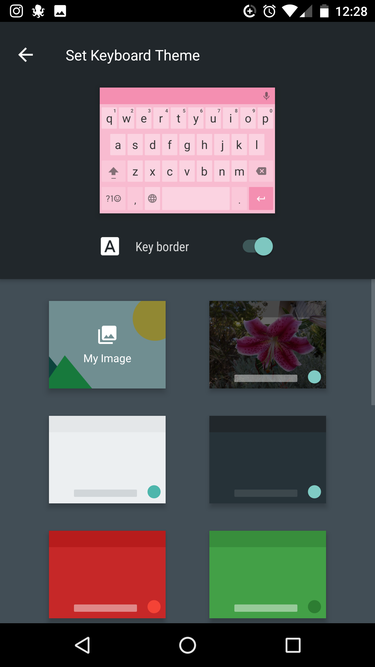 You can add your own image as a keyboard theme if you like.
From here, you can select from 16 different keyboard themes, including the ability to add a locally-stored image as a background. Once you've made your selection, you can also choose whether or not to display a border over each key.