Analysts ask: Did Samsung cut corners in shipping Note7 replacements?
Billowing smoke from apparent Note7 replacement unit caused Southwest jet evacuation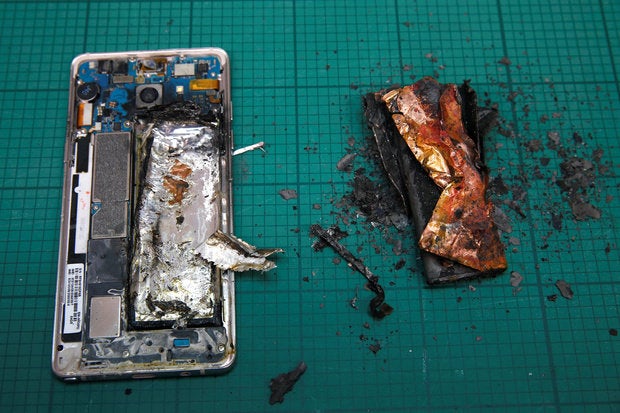 Smoke billowing from what appears to be a replacement Samsung Galaxy Note7 caused the evacuation on Wednesday of a Southwest jet on the ground in Louisville. No one was injured.
Samsung is trying to retrieve the Note7 to verify whether it is indeed a replacement unit. Meanwhile, the U.S. Consumer Product Safety Commission and other federal authorities are conducting investigations.
If it is indeed a replacement Note7, Samsung will face some tough questions about whether it cut corners in offering replacement Note7 devices to customers that Samsung had deemed safe, analysts said today.
"This is a huge blow for Samsung as it basically invalidates everything they have done thus far and makes people not trust what is in store," said Carolina Milanesi, an analyst at Creative Strategies.
"It is not a good scenario for Samsung," added Jack Narcotta, an analyst at Technology Business Research. "Even when it does the right thing [with its recall of original Note7s] -- and maybe cuts a few corners to do that -- it still can't wrestle the problem to the ground."
Jack Gold, an analyst at J. Gold Associates, said there are many possible explanations for what caused the Note7 to begin burning, including: the manufacturing process didn't work on this particular device; the batteries are still problematic; or the device had a faulty charging unit.
"We'll see if any additional remanufactured units have the same problem," Gold added. "All modern phones with high-capacity lithium-ion batteries and [that are] fast charging face this potential problem. We just don't hear about them because they are relatively small in number."
However, Gold added, the Southwest jet evacuation over the smoke emitted by the Note7 unit is "clearly a problem for Samsung...They absolutely need to find the problem with this device and fix it quickly."
The owner of the device aboard Southwest flight 994, identified as Brian Green, told several television news stations that he put the Note7 in his pocket after trying to power it down while the jet, bound for Baltimore, was parked at the gate in Louisville. He told CBS This Morning that he first heard popping and sizzling sounds, then added, "there was smoke just billowing, pouring out of my pocket."
Green took a photo of the burned Note7 on the floor of the plane where he had dropped it, and also provided a photo of the box it came in, to show it had a black square symbol to indicate a replacement Note7. He told The Verge and other news outlets that he picked up the new phone at an AT&T store on Sept. 21.