An iPhone without a headphone jack? Sounds good to me
Why replacing the 3.5-inch headphone jack with Lightning isn't as crazy as it might seem.
Removing the headphone jack from the iPhone is a similar proposition. With the iMac, Apple was betting that a nascent yet clearly superior technology was on the verge of taking off; by removing the 3.5-inch jack from its biggest-selling mobile product, Apple is relying on Lightning and Bluetooth to facilitate the transition. But this time around, Apple is holding a much stronger hand—with an ace up its sleeve.
Power cord
Most people don't know it, but Apple has already added a specification to its Made For iPhone/iPod/iPad program to allow headphones to connect directly to the Lightning port. In many ways they're superior to their 3.5-inch counterparts, offering lossless digital audio and enabling advanced features such as noise cancellation and digital-to-analog conversion without the use of batteries.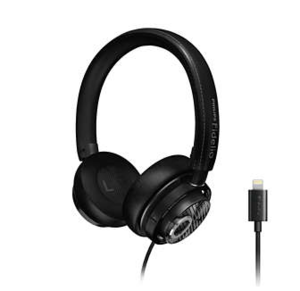 Philips Fidelio M2L. Credit: Philips
But much like USB in 1998, there are limited options for music lovers. The first ones to market—-notably the Philips Fidelio M2L and JBL's upcoming Reflect Aware earbuds—are relatively expensive with minimal audio benefits. And of course, they only work with iOS devices, giving manufacturers little reason to invest in the technology, especially when there's a 3.5-inch audio jack right next to it.
Removing that port would certainly accelerate the proliferation of Lightning-enabled headphones, but even though Apple sells more iPhones than any other handset, the percentage of people using one is still relatively small, especially when compared to the number of mobile devices with an audio jack. And since Apple is unlikely to license the tech to the likes of Samsung and Huawei, it will probably be a while before major headphone manufacturers jump on board.
Presumably Apple will bundle a pair of Lightning earbuds, but beyond that, true Lightning headphones will likely be relegated to the "pro" crowd, with higher-end models taking advantage of the advanced features to target audiophiles on the go. And for those who own headphones they can't bear to part with, there will surely be a dongle Apple will be happy to sell them.
Unplugged
A line of Lightening headphones is certainly interesting, but I'm much more interested in what Apple can do without wires. The white cord hanging out of the top of our iPods might have been cool back in the clickwheel days, but that's not the case anymore.
Bluetooth headphones are the future Apple is betting on, and I can envision a campaign that spins the elimination of the headphone jack in a positive light, especially if the iPhone contains something like aptX or a homegrown codec to bolster the sound delivered to your ears. Bluetooth audio has yet to reach its potential, and a headphone jack-less iPhone might be just the push it needs.
Previous Page 1 2 3 4 Next Page