Adoptable storage in Android 6.0: What it is, how it works
Google is no longer treating microSD cards like second-class storage.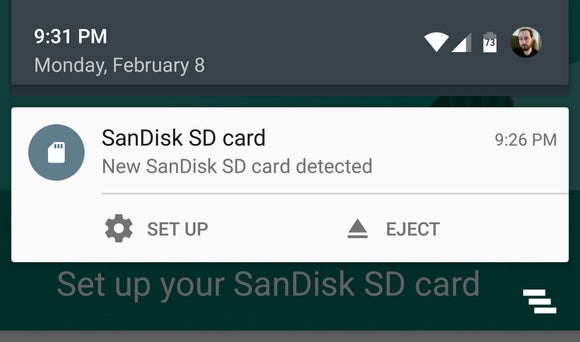 Android makes it easy to set up new microSD cards.
You'll be prompted to choose a mode for your card as soon as you insert it. Most devices offer "Portable" and "Internal" as your choices. Select portable if you just want to dump some files on the card and be able to move it to other devices. The "internal" option is adoptable storage, which again, means you can't remove it from that device without some serious legwork.
Anything that is on the card will be lost when you adopt it as internal storage, which only takes a moment. When that's done, your device will offer you the option of moving app data and media to the card immediately. This will take a bit longer, depending on how much data is on your device. If you bypass this and want to go back later, just visit the internal storage menu and use the "Migrate data" option. You'll probably end up with a few gigabytes of data on the card after the move.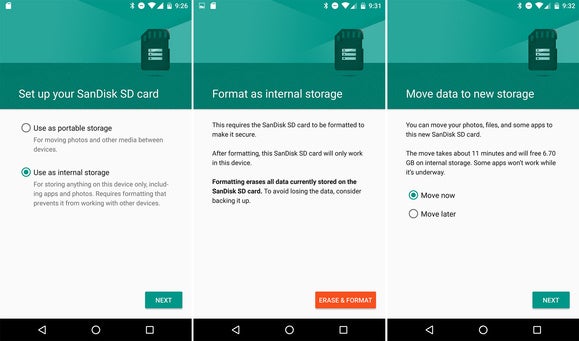 Configuring adoptable storage in a few quick steps.
If you decide to use the card for something else, or you want to trade up to a larger one, you need to do some housekeeping. The data stored on your card must be migrated back to the internal flash storage in order to avoid breaking your apps. You can do that from the internal storage menu. If you can't fit everything, you'll have to delete things until you're under the limit. At that point, you can go back into the SD card storage menu and format it as "portable," meaning it will work in other devices. If there's any data still on it, you will lose it.
So, there are some caveats with adoptable storage, but it's much better than the old approach for most situations. As long as OEMs continue to offer devices with a paltry 16GB of storage, this will be a very useful feature.