Adonit Pixel review: Nothing beats Apple Pencil, but this stylus comes close
For serious writers and artists, the iPad Pro and Apple Pencil combination is impossible to beat. But Adonit's stylus wins for backwards compatibility and improved features.
But the Pixel is still a solid pen—at least on the Pro. Don't expect the same level of performance on older iOS devices. Using the Pixel to draw in Concepts on the first-gen Air, there was a noticeable lag between when I started sketching and when lines appeared onscreen. On the Pro, the Pixel was as responsive as the Pencil, with almost no offset. Adonit marketing manager Rafael Gomez said the Pixel works far better on the iPad Air 2 than the Script or Touch did, and that the new stylus combines the best of both products.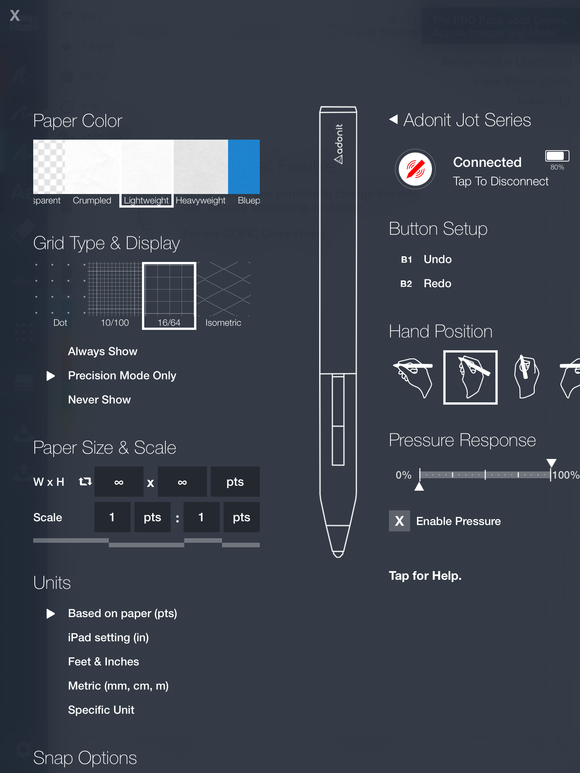 Pairing the Pixel to supported apps like Concepts is simple.
I'm no artist, so I enlisted the help of IDG graphic designer Erik Swanson, who has experience sketching with a variety of styluses and tablets. Not surprisingly, he preferred the experience of using the Apple Pencil on the Pro, but the Pixel wasn't far behind. Using the Pixel on the iPad Air, he struggled to make straight lines, even with Concepts' snap guide turned on.
I also compared the Pixel to Adonit's Jot Script on an iPad Air. The Pixel has improved pressure sensitivity so you can lighten or darken your shading just by altering the stylus's pressure on the screen. The Pixel also has a sleeker, more traditional pen design with a more precise Pixelpoint tip. Adonit added tip drag to that Pixelpoint tip, so it feels more like writing or drawing on paper than on glass. And it has two shortcut buttons, which neither the Script nor the Apple Pencil have. While the Pixel is thicker and heavier than the Pencil, it's more pen-like than the Script.
Bottom line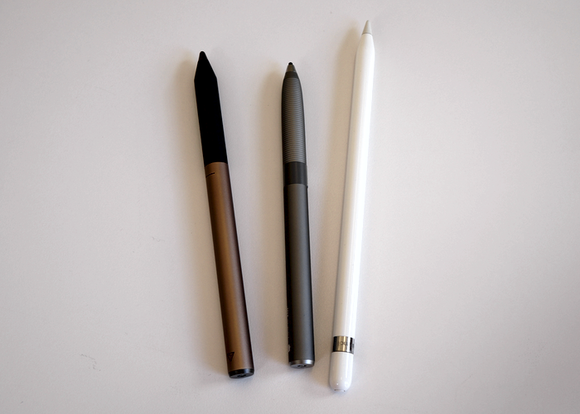 From left to right: the Adonit Pixel, Adonit Script, and Apple Pencil. Credit: Caitlin McGarry
The Apple Pencil wins, hands down—literally. I like to write with my hand resting on the screen, like I would write on a piece of paper. I can only do that with the Pencil. But take the iPad Pro, and therefore the Pencil, out of the equation, and Adonit's stylus is a more compelling buy.
The Pixel is an affordable pen that packs a ton of features into a sleek, easy-to-use package that's compatible with a slew of iOS devices. The Pixel's improved tip is a big upgrade from the Script, thanks to tip drag. I also loved the grip sensor, which meant I could just pick up the pen and start writing (ideally—you may have to pair your Pixel with the app you're using if the two are disconnected).