Adobe Voice 2.0 review: Presentation app for iPhone delivers sophisticated animated videos
Consumer multimedia tool began life on the iPad, but now offers even more opportunities to shine.
Adobe Voice takes care of all of the background effects and transitions, which makes the app fast and easy through fewer choices. However, these days, an abundance of consumer apps like iMovie offer some rudimentary transition choices, which would not add a learning curve.
From a design viewpoint, it may seem odd that the app works only in portrait mode. Though I can appreciate how that may add to novice ease of use, a landscape option would allow for even more customization.
As I placed icons on top of images, it became obvious that they could not be resized or placed anywhere but in the middle. It would have been nice to be able to resize the icons, an inherently non-complex task, especially since images can be adjusted within the template.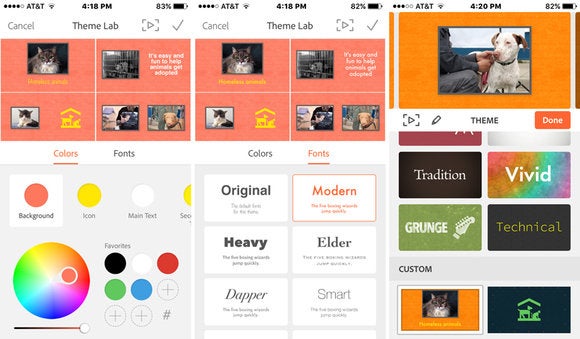 Voice is a one-stop-shop for all presentation elements.
Bottom line
With all the free apps available these days, the question has become not whether an app is worth the money, but rather worth your time. Adobe Voice is free on the App Store with no Creative Cloud strings attached. You will need an Adobe login ID to save and share your work from Adobe's servers.
If you have something to say to the world, you won't be sorry you checked out Adobe Voice. Its ease of use, coupled with the ability to employ all your own resources, ensures that the voice you speak with is your own.
Previous Page 1 2 3