Adobe Voice 2.0 review: Presentation app for iPhone delivers sophisticated animated videos
Consumer multimedia tool began life on the iPad, but now offers even more opportunities to shine.
If you don't know how to begin, the opening pane gives you abundant examples of what the app is capable of doing. This helps rank amateurs get the hang of what a script should sound like. Even if you copy an existing presentation frame-by-frame, there's no chance that your content will look derivative.
Adobe provides customizable themes and access to 25,000 royalty-icons and millions of images derived from Flickr's Creative Commons and Pixabay.com public domain (complete with license information and credits). You can use all your own content, if you choose.
At the outset, you choose the kind of presentation you want to make (Promote an Idea, Tell What Happened, Show and Tell, Personal Growth and more) or just start from scratch. I like how helpful the app is in assisting with a script; when you pick a presentation type, the app prompts you for relevant content that you can speak or type. That helps you get through your project in 15 minutes or less.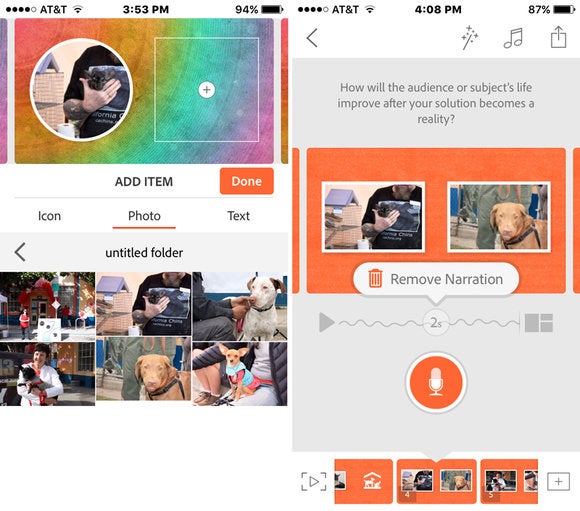 Not every frame needs narration. You can vary themes and layouts at will and use images from your Camera Roll.
Even when you're finished with a project, you can still tweak it to your liking as you navigate through individual frames at the bottom of the window. You can alter anything about a page, including the layout, narration, icon, and images, though layout choices are limited.
Tapping the theme button lets you completely replace your current theme with a different one, leaving the content intact. Voice's Theme Lab lets you customize themes by changing background and type colors and fonts. Your presentation can be customized with different background, icon, and photo border colors and fonts, with Voice automatically applying your choices throughout the video.
When you're done, built-in social networking tools let you share your animation to Facebook and Twitter, by email or iMessage, or via your own website. And you can also save your animation to the Camera Roll and share it wherever you like, including to YouTube.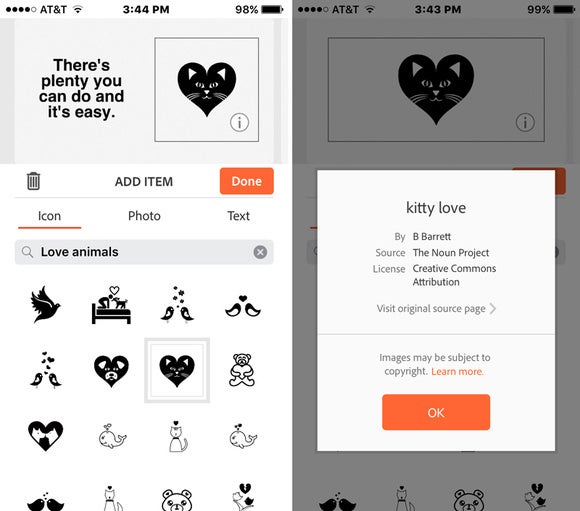 The app lets you access thousands of royalty-free icons with full attribution.
What's missing?
For the most part, Voice 2.0 brings you all the design goodness most users will need. The credits conveniently assure that any Creative Commons drawings or images you use in the piece are properly credited, plus you can add your own copyright to your original material, which is useful. However, some might be a bit miffed that they cannot remove the Adobe credit at the end, which is a little annoying. I'm not sure I want to constantly advertise Adobe in all of my Voice projects. It should be optional.