Adobe Voice 2.0 review: Presentation app for iPhone delivers sophisticated animated videos
Consumer multimedia tool began life on the iPad, but now offers even more opportunities to shine.
If you are already using Adobe Voice, you're not the type who wants to leave much margin for error. You have something to say and you want to get that message across quickly and succinctly. A bit of flair and polish wouldn't hurt, either.
The newly released universal iOS app guides you through each step of creating a unique and appealing animated video presentation, complete with audio-visual elements, images, icons, and critically, your own voice.
With Voice, Adobe diverges from its target audience of professional designers, photographers, and artists into consumer territory: business folks, activists, schoolteachers, and students. Voice is specifically for people who don't have the time, skill, or interest in learning a photo, video, animation, or sound-editing tool.
The more you know about design, and the pickier you are about elements like color, layout, or fonts, the less inclined you'll be to surrender your visuals to the template-driven, procedural approach that Voice takes.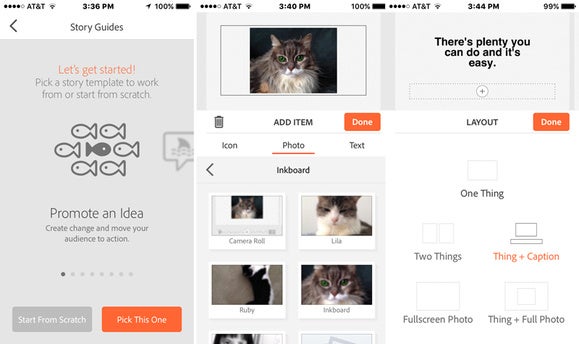 Adobe Voice methodically walks you through the building blocks of your animated video. There are plenty of choices for a unique look without becoming overwhelming.
Then again, the app's ease of use and high-end output (H.264 HD video and HTML5) may tempt even pros who need to quickly knock out a community, school, or volunteer project. Adobe Voice is easy enough for a kid to learn and the results are fun to watch. Its slick productions never look canned.
Finally on the iPhone
Adobe Voice is not new, having launched as a free app on the iPad nearly two years ago. The new version with iPhone support answers a call by many users to access the creation tool straight from their pockets at any time. With larger iPhones introduced in the last two years, it now makes more sense to have a universal Voice app. Plus, anything you create is synced via your Adobe account so you can access and work on the same project from whichever device you have on hand.
The main ingredient for a Voice presentation is your voice: You start by recording the narrative. It's oddly compelling to be repeatedly prompted to speak, but it also encourages you to hone your message for impact and to keep it short and simple.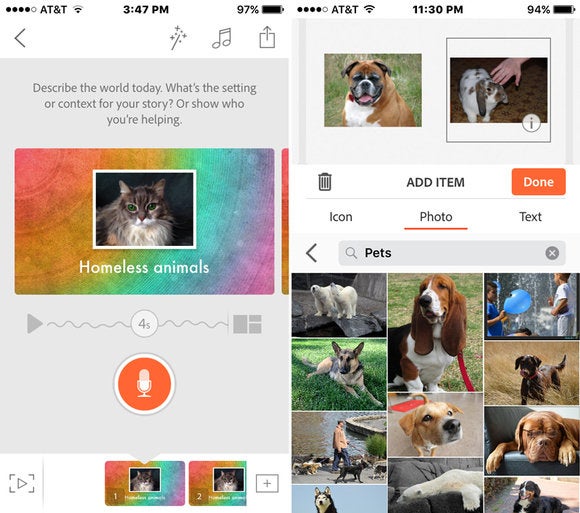 Vary your layouts and create multiple panels either from Voice's built-in library or your Camera Roll. Then navigate and preview from individual frames at the bottom of the window.
While the templates will initially make design choices for you, there's plenty of flexibility: You can experiment with different themes, fonts, colors, and music. Adobe includes a limited number of free soundtracks to use as backing music, though with this new version, you can now use non-DRM songs from your iTunes collection.