Adobe Max 2015: Connected creative canvas expands with two new mobile apps
Artists are increasingly turning to smartphones and tablets for larger portions of the creative workflow.
Built upon the company's creative community of more than 5.6 million members on Behance, Adobe Portfolio offers a simple yet elegant way to design creative portfolio websites. This new service will be available before the end of the year for all paid Creative Cloud members.
That even includes those on Adobe's least expensive Creative Cloud Photography plan priced at only $10 per month, which delivers the aforementioned enhancements to Photoshop CC as well as Lightroom CC for desktop and mobile, plus powerful new editing capabilities for the companion web version.
A dozen still to come
In what has now become an annual tradition, Max 2015 wrapped up with an early look at technology still simmering on the back burner. Presented by Adobe engineers, these so-called "Sneaks" are intended to show off new features that have the potential to be implemented into new or existing applications, and are always a highlight of the conference.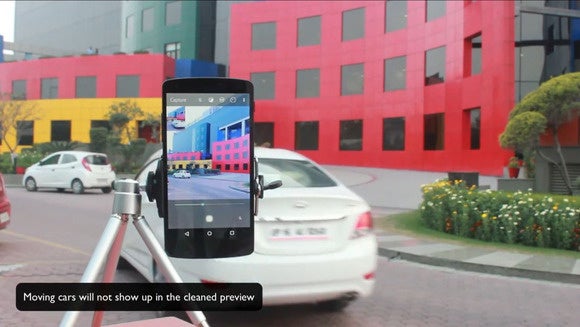 Max 2015 Sneaks include "Monument Mode," a one-tap solution for removing tourists and other unwanted moving objects from photos as they're taken.
One of the most impressive tech previews was "Monument Mode," in which co-host Nick Offerman (best known for his portrayal of no-nonsense government employee Ron Swanson on NBC's "Parks & Recreation") played an annoying tourist blocking the view of a landmark trying to be photographed. Using a new algorithm that distinguishes fixed objects from those in motion around it, removing such obstructions could one day be only a click away.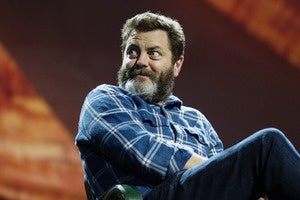 "Parks & Recreation" resident grump Ron Swanson—better known as actor Nick Offerman—provided the laughs during the closing night "Sneaks" thus year.
Other Sneaks included capturing perspective by snapping a picture, an iPad app for creating custom fonts, and a one-click method for removing objects from the frame without having to first select or even identify them. Judging from previous events, you can bet at least some of this innovative technology will make an appearance before it's time to sign up for next year's Max, which will be relocating to San Diego from October 31 through November 4, 2016.
Previous Page 1 2 3