Acer Predator 17 review: One gimmicky fan can't make up for aging hardware
The ejectable fan does capture the imagination, though.
There are also macro keys arrayed down the left side. I could've done without them, but...well, they had the space, so why not?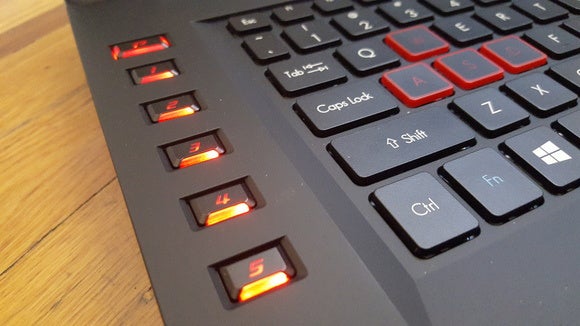 The trackpad is superfluous on a machine like this, which seems to be why Acer's put a button off to the right to disable it entirely. However, if you're inclined to use it—say, because you left your mouse at home—the trackpad is clearly delineated and both buttons have a smooth, deep action. Acer's put in obvious work here.
As for ports, the Predator 17's pretty much your standard gaming laptop. The left side houses the power port, two USB 3.0 ports, headphone jack, mic jack, SD reader, and the optical drive/fan slot. The right features two more USB 3.0 ports, a USB-C Thunderbolt port, DisplayPort, gigabit ethernet, and a security lock.
Specs
Inside, the Acer Predator 17 packs a level of hardware meant to do its aggressive exterior justice. Our model came with an Intel Core i7-6700HQ clocked at 2.6GHz, an Nvidia GTX 980M, an absurd 32GB of RAM, a 512GB SSD, and a 1TB HDD.
Those specs are somewhat less impressive than they were a year ago—the 980M in particular looks long in the tooth compared to the proliferation of laptops touting desktop 980 parts—but this is still one hell of a machine.
And there's that extra fan to consider…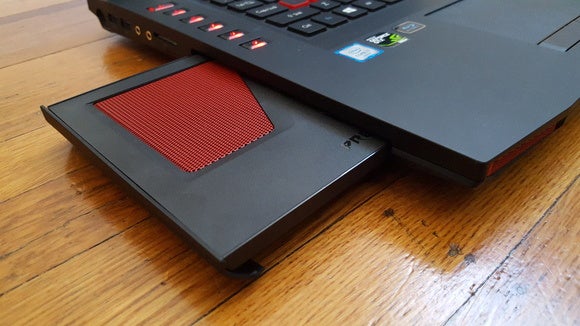 I ran the Predator 17's benchmarks twice to see what effect the swappable fan has, and the answer is...not much. In PCMark 8's Work Conventional, for instance, we see a score of 3,307 without the fan and 3,438 with it. The same margin crops up in 3DMark's FireStrike Extreme test: 4,313 without the fan and 4,401 with. So yeah, there's a difference, but it's minor.
There's no reason not to use the fan. How often do you use an optical drive these days anyway? But if you were hoping for a Hail-Mary cooling miracle, this is not it. It's a gimmick.
Regardless, performance is perfectly acceptable. I'll be using the "With The Fan" numbers from here on out. That means the Predator 17's aforementioned PCMark Work Conventional score of 3,438 goes up against the Origin EON15-X with an i7-4790K and 980M, which scored 3,894. The i7-5700HQ, 980M-equipped MSI GT72 also scored in that range, with 3,930.
It goes without saying that the 980M mobile part gets trounced by its desktop equivalent, though. The Origin EON17-SLX (i7-6700 overclocked and a full 980) put out a score of 4,320—top-of-the-line for laptops, these days.