9.7-inch iPad Pro review: Hits the sweet spot between size and price
You don't need to spend more on the 12.9-inch iPad Pro—the smaller model is a better size and isn't hampered by having half the RAM.
As a matter of policy, Apple doesn't get into the weeds on its choices for the amount of RAM or how it's configured. It could be that Apple selected slightly lower-speed RAM for the Lil Pro to save on power since the smaller unit has a smaller battery. Also, the smaller screen has a lower resolution, and Apple may have decided it didn't need the highest performance RAM.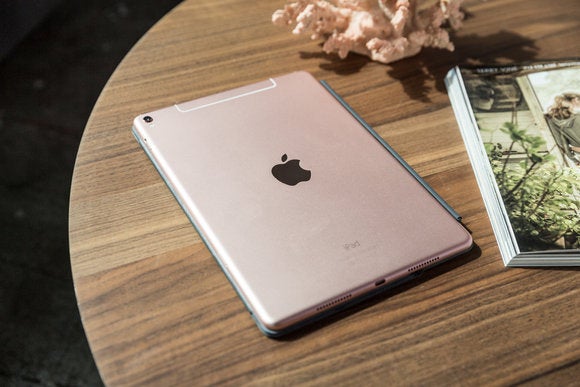 Oh yeah, and as of right now, this is the only iPad that comes in Rose Gold. Credit: Adam Patrick Murray
For the most part, the amount of RAM is probably nothing to lose sleep over. There's nary a performance difference in the computing side of things and even on graphics tasks, when you consider the resolution, the difference is pretty small, as well. When buying a Mac with configurable RAM, I tend to max it out at purchase as a way of "future proofing" the machine, hoping that the more RAM I have, the longer that Mac will last before it feels obsolete. If you can't stand the thought of buying an iPad with half the maximum RAM available, you could shell out an extra $200 for the Big Pro, or wait to see what Apple does with these iPads next year. But for me, the 9.7-inch iPad Pro's performance is worth its price and then some.
Bottom line
If you're using an iPad Air or older, the 9.7-inch iPad Pro is a worthy upgrade. If you're trying to decide between a 12.9-inch iPad Pro and the smaller version, I'd go small because it's a more convenient size, and the $200 price difference is worth the minimal decrease in performance, especially if you plan to spend that difference on Apple's accessories.
Previous Page 1 2 3 4 5