9.7-inch iPad Pro review: Hits the sweet spot between size and price
You don't need to spend more on the 12.9-inch iPad Pro—the smaller model is a better size and isn't hampered by having half the RAM.
I really appreciate the extra speaker power on both iPad Pro models, since I watch a lot of streaming movies and TV on my iPads. The four speakers provide enough oomph for an action movie, and make music and podcasts sound better when you're listening without headphones too.
The iSight camera on the Lil Pro is even better than the Big Pro's camera, because it has a True Tone flash and supports Live Photos, which the Big Pro doesn't. Plus, it records 4K video, while the Big Pro is stuck on 1080p. Want to shoot slo-mo? The Lil Pro lets you choose 1080p at 120fps or 720p at 240fps, while the Big Pro can only handle 720p at 120fps. Again, the Lil Pro's physical size makes me more likely to use it to shoot stills or video, and even if you scoff at the very idea, don't forget that plenty of apps use the cameras for things like augmented reality or even…well, shooting video. For example, an app called Hudl Technique lets you film a baseball, tennis, or golf swing and then analyze it in slo-mo for proper form and technique. It's universal for iPhone and iPad, but the iPad's bigger screen makes it a lot easier to use, and the camera captures enough detail that you can zoom way in on the way a wrist or ankle turns during a swing.
What about the RAM?
It's true that the Lil Pro has 2GB of RAM, or half the RAM of the Big Pro, which has 4GB. But bigger screens demand more resources to power them, and in testing with GeekBench 3, the Big Pro only scored about 6 percent better overall, so I don't think many people will notice a performance hit in most tasks. Memory-specific tests show more of a discrepancy, because as it turns out, it's not just the amount of RAM that's different, but the memory bandwidth too.
In Geekbench 3's multi-core memory benchmark, the Big Pro scored 4112. On the Lil Pro, the same test produced 3203, or about 28 percent worse. In most tasks, you're unlikely to see the impact of a little less memory bandwidth. Where it's more likely to manifest itself is graphics-related tasks such as gaming.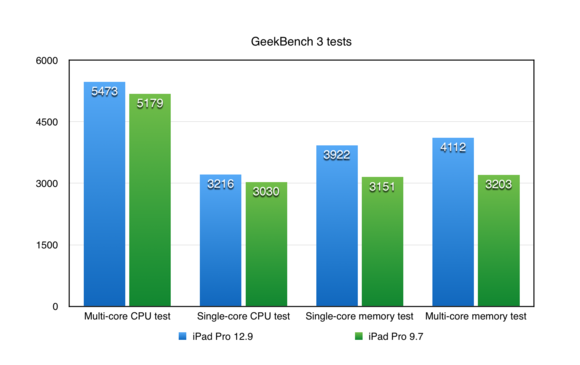 Is having half the RAM a dealbreaker? I would say no. Click on image to enlarge.
In 3DMark's Sling Shot Extreme test, for example, the Lil Pro scored 3146, about 20 percent worse than the Big Pro's score of 3787. But when the same test was set to render offscreen, the Big Pro's 3794 only bested the Little Pro's 3528 by 7.5 percent. And in AnTuTu Benchmark app, the Lil Pro scored just 11 percent worse than the Big Pro.
Previous Page 1 2 3 4 5 Next Page