9.7-inch iPad Pro review: Hits the sweet spot between size and price
You don't need to spend more on the 12.9-inch iPad Pro—the smaller model is a better size and isn't hampered by having half the RAM.
Pro features at a value price
The Lil Pro joins the Big Pro in supporting the Apple Pencil, which remains just delightful. In fact, it's even more so now, just because more apps support it. I like drawing and coloring with the Pencil to relax, but I'm even taking more meeting notes with it lately, too, just because the "infinite scroll" writing feature in GoodNotes 4 is so fun. The Pencil is also better with the Lil Pro because it's easier to hold the smaller iPad in one hand while you draw or write with the other. With the Big Pro, I felt like I had to be seated, preferably at a table, when I was going to do anything with the Pencil.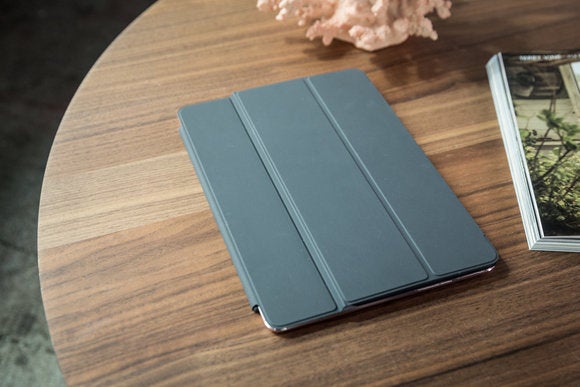 The Smart Keyboard isn't my favorite to type on, but I do like it as a slim protective cover, and its magnetic attachment is more convenient than a full case. Credit: Adam Patrick Murray
It's also worth pointing out that the Lil Pro starts at $200 cheaper than the Big Pro, and the Pencil is $99. The Lil Pro's Smart Keyboard is $20 less too, at $149, compared to $169 for the Big Pro's Smart Keyboard. So a full setup of a 32GB Wi-Fi-only iPad Pro, Smart Keyboard, and Pencil is $847 if you choose the smaller iPad Pro, and $1,067 if you choose the larger version.
Oh, and if you use Microsoft Office, there's another bit of potential cost savings from choosing the smaller iPad. Microsoft requires an Office 365 subscription if you want to create Office documents on a tablet larger than 10.1 inches—so that rule applies to the Big Pro but not the Lil Pro. If you don't already have Office 365 for your Mac, you could save $7 per month or $70 per year (the price of Office 365 Personal) by avoiding buying it for your iPad Pro.
The smaller Smart Keyboard provides almost the same typing experience as the Smart Keyboard made for the Big Pro. It has all the same keys in exactly the same places; they're just a little smaller. Both keyboards have a spill-resistant fabric coating and low-travel keys that I can't seem to type on without slamming my fingers down as hard as possible. (It's like my fingers don't believe the short-travel keys are really going down, and I formally apologize to every coworker who has discreetly slid on his or her headphones when I start up with my infernal key-pounding again.)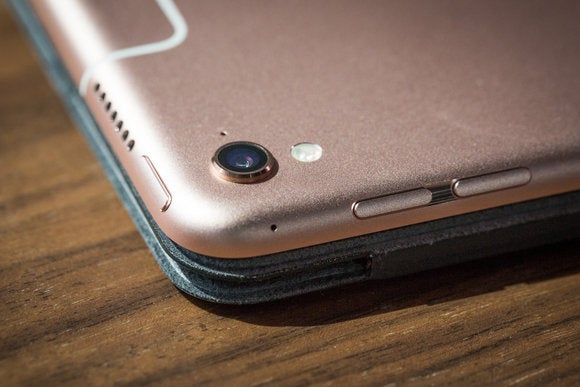 The camera protrudes just a bit, but the Lil Pro has a flash, for the first time on an iPad. (The iPad here is shown with the Smart Keyboard cover.) Credit: Adam Patrick Murray
Previous Page 1 2 3 4 5 Next Page