8 apps to help you take the stress out of holiday travel
Traveling during the holidays—or any time, really—is stressful enough. Here are some apps that can help.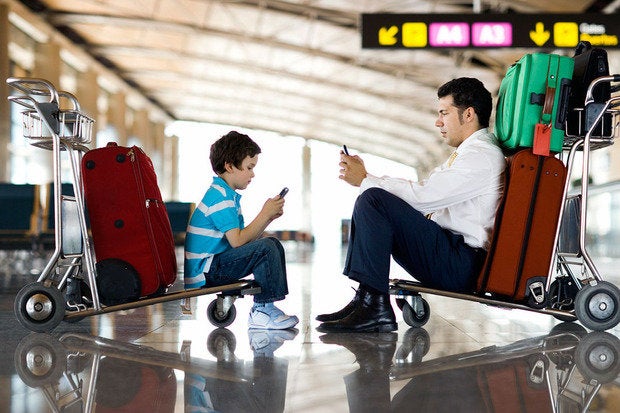 Traveling during the holidays is an absolute pain in the derrière, but you can make it a little easier on yourself, and your travel companions, but equipping yourself with the proper arsenal of apps. Since I often travel for both work and play, I put together a helpful list of the Android apps I've use to make my travel days less stressful.
Waze
If you're traveling by car, Google Maps is simply not enough—even if it does integrate some of Waze's functionality. The benefit of having Waze (Free) installed is that you get access to all the real-time, socially-curated data that other users are posting without waiting for Google to aggregate it to Maps. So, if an accident happens on the road out of town, Waze will immediately notify you of other routes available to avoid the mess up ahead.

Waze is an extremely helpful app for road trips.
Waze also lets you more easily add stops along your route or send your ETA to a family member, and once you've navigated 100 miles with it, you can check on gas prices along your route. The app also offers helpful icons for fast-food locations and rest stops along your route, so you know what's in the vicinity without having to tap around on the map.
And for fun, you can download new voice packs for the GPS.
TripIt
Whether you're a frequent flyer or you've a massive itinerary to manage on a family road trip, TripIt (Free) is absolutely worth the download. The app hooks into your email, reads through your itinerary, and then displays all the relevant information on flights, hotels, car rentals, and social events in an organized fashion. It even syncs your plans with Google Calendar or Outlook, and if you have friends or family traveling along you can easily share that data with them.

TripIt organizes all your travel information into one easy-to-glance-at column.
If you're a frequent traveller, you might also find the $49 a year Pro subscription worth the price, as it offers information like alternate flights when something goes wrong, as well as refund alerts.
Inbox by Gmail

If you don't want a seperate app to organize your travel plans, Inbox by Gmail does it for you.
If you weren't already aware, Inbox by Gmail (Free) offers Trip Bundles, a feature introduced over the summer that literally bundles together every detail about an upcoming trip. It works a little like TripIt, though it's integrated within the app, and the most recent update includes the ability to add others to the trip itinerary.