7 enterprise mobile management features in Windows 10
Redstone 2 has been delayed until Spring 2017, but the most recent Microsoft operating system update, Redstone 1, also dubbed the Windows 10 Anniversary Update 1607, brings plenty of enterprise IT updates – including these seven EMM features.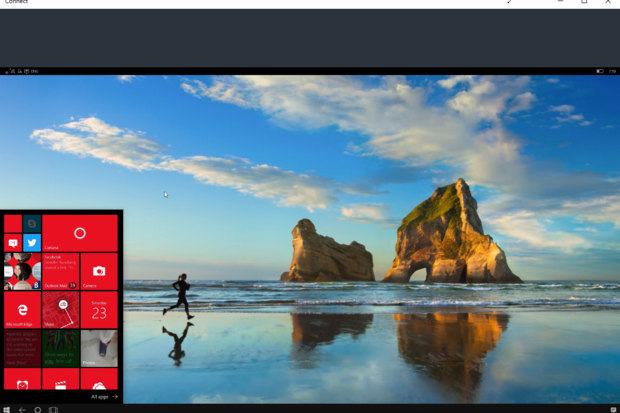 Windows 10's Connect app puts your phone's content within a window on your PC. Credit: Mark Hachman
Security and enterprise mobile management (EMM) are big concerns for businesses of all sizes as they scramble to make sure corporate data is secure. And there's no shortage of EMM products, but there are features already baked into your operating system?
Microsoft, for example, with its Windows 10 update, Redstone 1 -- officially called the Windows 10 Anniversary Update 1607 -- introduced a slew of new IT friendly features. Here are the six most notable features in the latest update that will get IT celebrating.
Windows Information Protection
With Windows Information Protection (WIP), previously called enterprise data protection (EDP), IT departments can get a handle on BYOD. It allows you to manage data on enterprise-owned and personal devices to avoid any security issues if a device falls into the wrong hands. Employees won't have to change the devices or apps they use and businesses can have the peace of mind of being able to encrypt and remote-wipe corporate data without affecting personal data.
Audit reports also help keep on top of devices that have lapsed in updates, or that require immediate action. It also encrypts any data that an employee copies or downloads to their device from services like SharePoint or a shared network, adding another layer of security.
MDM updates
If you want, you can look at the entire list of things that have changed in terms of Microsoft's MDM tools in Redstone 1, right down to every new setting they included. But for a brief overview, Microsoft updated the enrollment procedure, making it easier to get Windows devices secured. In the past, users had expressed difficulties with MDM enrollment for Azure Active Directory and issues with software compatibility, but those problems should be cleared up with the latest update. There aren't any major updates to the MDM tools, but you'll also find tons of new processes added and plenty of niggling bugs patched.
Windows Hello for Business
Managing passwords has been an uphill battle for IT departments -- employees don't want to make complex ones they'll forget, or they end up using the same one across multiple platforms and eventually become frustrating with changing their password every few months. But with Windows Hello for Business, users can authenticate their Windows account using something even more secure: their face. This feature already exists on Windows 10 devices with front-facing webcams, but now the technology has been extended to business users, and IT departments can configure exactly how they want it to work. Users can also choose to create a PIN, or a biometric gesture to sign into not only their device, but other compatible Microsoft accounts.