6 months with the Galaxy S6 Edge
How does Samsung's flagship phone hold up over time? Here's what it's been like living with it every day.
My life with the Nexus 6P and Marshmallow's Doze mode is much different. I typically leave my phone untouched on the desk for hours at a time, and at some point the Nexus 6P kicks into Doze. When dusk arrives, I pick up the phone and see it's somewhere between 60 and 70 percent charged, depending on how much I used it in the morning. I haven't had to charge the 6P at work or plug it into an external battery pack before leaving the office. I'm hoping Doze will eventually have the same effect on Samsung's smartphones once it seeds out a Marshmallow upgrade.
The Galaxy S6 Edge does have one first-world luxury I don't have with Nexus 6P, and that's wireless charging. I love being able to plop the phone down on the Tylt Vu and keep it charged up throughout the day. And its fast charging capabilities make it so that I'm not waiting around to juice it up.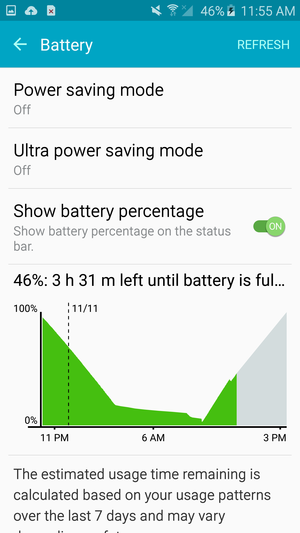 Samsung's power saving modes are some of the best I've ever used. I like that I can dial down the features when I need to.
Also, I like the power saving modes that Samsung's software offers—and this is an example where Samsung adds value in additional features, but shouldn't need to change Android's interface to do so. While on a family vacation in Minnesota over the summer, I left the Galaxy S6 Edge in Ultra Power Saving Mode for several days. There weren't many power outlets to share, but I still wanted to keep my phone on in case anyone back home needed me. The Ultra Power Saving mode dumbed the phone down to its most basic offerings and ensured my parents and my best friend could still text or call me, without the cellular standby eating up my battery life.
I'm lucky it hasn't shattered

It's hard to capture with a kit lens, but there's quite a few scratches around the charging port—not to mention a bunch of gunk stuck inside it.
I love the metal and glass construction of the Galaxy S6 Edge—It's basically been the premium design standard I've held other flagship phones to this year. However, it's not the most durable device. It's definitely seen some wear and tear just by being in my bag every day. I've also dropped it a few times and if it weren't for the case, I think it would have fared much worse. The case only covers the backside, though, and you can see scratches and scuff marks along the metal edge. I'm glad the Galaxy S6 Edge has remained in one piece all the time, but I also take a little more caution with it than I did my HTC One M8, for instance. The glass and gold combination is too nice to ruin.
Previous Page 1 2 3 4 Next Page