6 months with the Galaxy S6 Edge
How does Samsung's flagship phone hold up over time? Here's what it's been like living with it every day.
Confession: I am no longer using the Galaxy S6 Edge as my daily driver. I bought a fancy gold-colored one after posting my review back in April with the intent of using it of using it until something better came along, probably in a year or so. And then the Nexus 6P came along. The gold just wasn't enough to keep the Edge in my back pocket.
That doesn't mean there isn't a place for Samsung's flagship in my life. It was my phone every day from April until October. Here's how it's held up over time, and why my SIM no longer lives in its tray.
It takes a little tweaking
Here's the thing about Samsung's smartphones: There's a bit of prep work involved before you can use one as your daily driver. In my case, I swapped out Samsung's TouchWiz for the Google Launcher and Samsung's keyboard for the stock Android one. I went through the entire applications list to disable Verizon's bloatware. I banned Samsung's browser, too, and replaced it with Chrome, and I told Samsung's app store to wait for me before it installs any updates.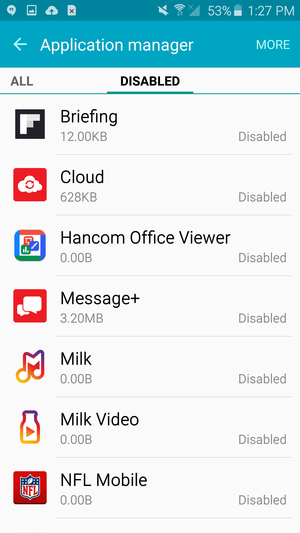 A fraction of the apps I disabled when I first set up my Galaxy S6 Edge.
I don't hate TouchWiz. If you recall, I initially wrote that this year's rendition is better than it has been in the past. I even grew to love the crowded Quick settings bar I previously rued because of how much I could stuff up there. I also like the fact that you can quickly close all tasks in the application switcher and that the camera app is user friendly.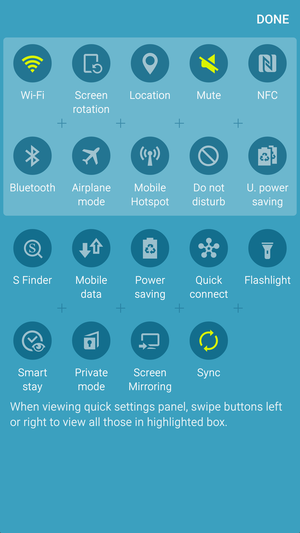 It's nice to have access to all these settings at once.
However, I still think Samsung should pare down on how much stuff it bundles with its devices. I don't need Microsoft's Office applications preinstalled on my device, and I'm sick of Verizon asking me to use its maps application. And while I appreciate all the free stuff, like 100GB of OneDrive space and six months of The Economist, I'd rather trade those in for just a bit more storage space on my 32GB device.
Debloating TouchWiz would also help the Galaxy S6 with its overall usability. When I first set up the S6 Edge, it was blazing fast and applications launched quickly. Then I started downloading more apps, which inevitably resulted in even more notifications pushing through compared to the initial review period, and that just seemed to slow everything down. I specifically recall the phone freezing up in the middle of turn-by-turn navigation. I had to pull over my car to restart the phone. I yelled a lot. Driving and diagnosing a sluggish Android device is not safe.