6 mistakes to avoid when setting up your small business wireless network
Sidestep these pitfalls for successful wireless workplace.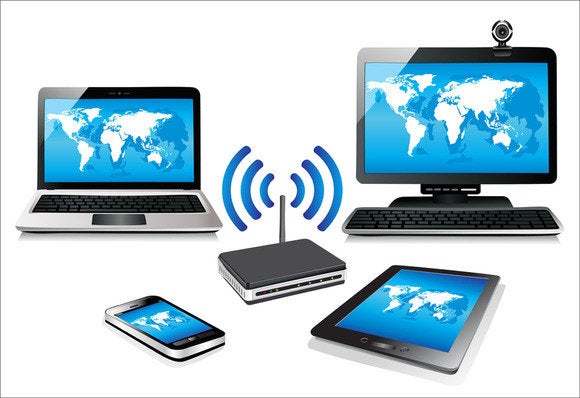 Mobile devices are now as essential to workplaces as copy machines and coffee makers. That means a fast, reliable wireless network is essential as well. But building one isn't as simple as plugging in your ISP-supplied router and connecting your smartphone. In fact if you've never done it before, putting together a Wi-Fi network robust enough to support your business can be pretty tricky. To shorten the learning curve, we've highlighted some common pitfalls and how to avoid them.
Overloading the wireless router
It's common to start with an entry-level wireless router when setting up your network. But as the business grows and high-throughput appliances such as NAS or IP cameras get added into the mix, many consumer grade routers get overloaded by the heavy usage.
Unfortunately, there's no easy way to tell ahead of time if an off-the-shelf wireless router is up to the task of running your small business network. If you do experience unexplained slowness, one solution is to set up a standalone network switch and wireless access point. Offloading some clients to the access point will reduce burden on your router's processor, while a new gigabit ethernet switch will increase your local network's speed.
Under provisioning your Wi-Fi network
Another mistake small businesses frequently make is relying on only one access point regardless of the network load. The ubiquity of smartphones, tablets and laptops in the workplace means you could easily have dozens of wireless devices with just 8 to 10 employees, so it's best to err on the side of over-coverage. Installing multiple access points up front reduces the risk of productivity killing bottlenecks.
You can also reduce the burden on your wireless network by migrating ethernet-ready devices such as desktop PCs and printers to wired networking whenever feasible.

Installing multiple access points will ease the strain on your network caused by dozens of connected mobile devices. Bad placement of Wi-Fi access points
The physical location of a Wi-Fi access point is critical, as you will quickly find if you place one in an alcove, beside large metallic fixtures or cupboards, or next to thick concrete beams. "Line of sight" barriers like these will weaken your Wi-Fi signal.
Because there are generally more obstructions—such as cubicle walls and furniture—near the floor, an elevated location works better than a lower one. A simple way to assess possible locations is to visualize the wireless signals emanating from the access point in a straight line. Parts of the office that are blocked by three or more obstructions will likely experience weak or nonexistent signals.